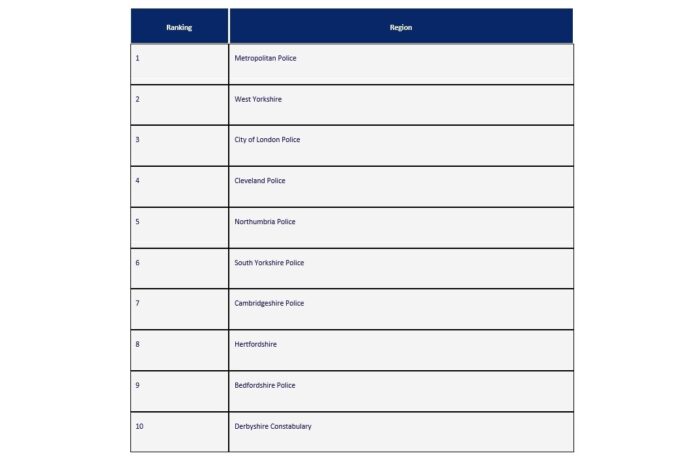 New analysis of police force data from Direct Line business insurance reveals that tools were stolen every 15 minutes in 2022 across England, Wales and Northern Ireland. In 2022, there were 35,098 incidents of tool theft reported to police forces, a 13% increase from 2021.
In 2022, 19,147 cases of tool theft specifically from a vehicle were reported. This makes up 55% of all tool theft cases in the year. A tool theft occurred from a vehicle every 27 minutes in 2022, which equates to a 10% increase in incidents from the previous year.
Additional research from Direct Line business insurance found that the average value of tradespeople's tools that had been taken from their vehicle was £3,425. This equates to a combined loss of £66m, from the 19,147 cases of tool theft from vehicles in 2022.
Thefts reported to London's Metropolitan Police represented 58% of all cases and London also came out on top when the population density of the jurisdictions was considered.
Alison Traboulsi, product manager at Direct Line business insurance, said: "The rising frequency of tool theft up and down the country is alarming. Our research shows that over half of all tool thefts occurred from a vehicle, highlighting the importance of keeping tools secure, as well as having the correct insurance in place if theft does occur.
"Tool theft is hugely disruptive for hardworking tradespeople who rely on their tools for their livelihoods, so it's vital that they do all they can to help protect themselves. We would encourage tradespeople to take steps to help secure their tools, such as parking their vehicle in a safe, well-lit location, fitting additional locks or installing an alarm system and forensically marking their tools.
"At Direct Line, we know the impact of tool theft can be devastating and we're committed to giving tradespeople the protection they need to enable them to do what they do best. We offer flexible insurance cover options allowing tradespeople to build a policy which covers their specific insurance needs, whether that's cover for during the day at work or tools locked in a vehicle overnight."