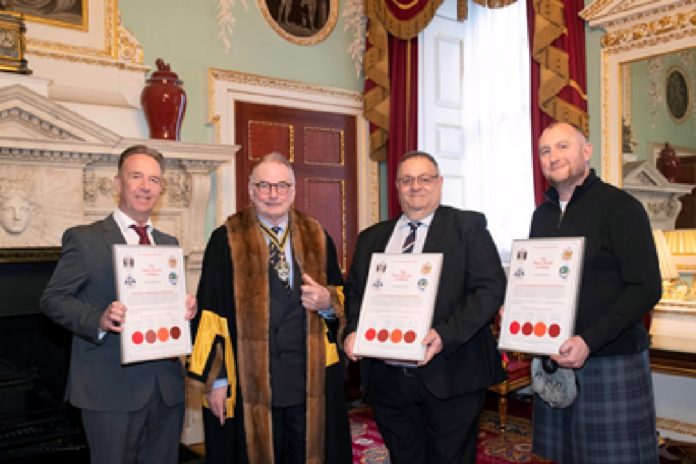 Three more members of the Chartered Institute of Plumbing and Heating Engineering (CIPHE) have become Master Plumber Certificate holders this year.
Pre-coronavirus lockdown, in March, Keith Robert Walklate EngTech MCIPHE RP, Andrew John Mensley EngTech MCIPHE RP and James G.S. Hendry EngTech FCIPHE RP were awarded their certificates by the Livery Companies Skill Council (LCSC), at a ceremony held at Mansion House in London.
Certificates on the day were awarded by The Lord Mayor, Alderman William Russell, with the customary handshake replaced by touching elbows.
First introduced in 2001 through a partnership between City & Guilds, the Worshipful Company of Plumbers and the CIPHE, the Master Plumber scheme has grown to include a wide range of London livery companies and professional bodies. This year's event was coordinated by the LCSC and saw Apprentice, Journeyman and Master Awards presented to over 50 representatives of various trades.
The ceremony itself recalls the full history of the trades and recognises each award recipient for their craft, by which they must accept a 'Charge', read out on the day by Dr Peter Rumley, the Master of the Worshipful Company of Plumbers.
Tim Sainty, membership director at CIPHE, said: "It's always a real pleasure to see our members achieve Master Plumber status and be recognised as elite representatives of the trade. Keith, Andrew and James have worked incredibly hard throughout their careers and are the embodiment of what it means to be a Master Plumber. They not only possess the knowledge and skill demanded at that level, but are dedicated to the industry, lifelong learning and nurturing the next generation of engineers."