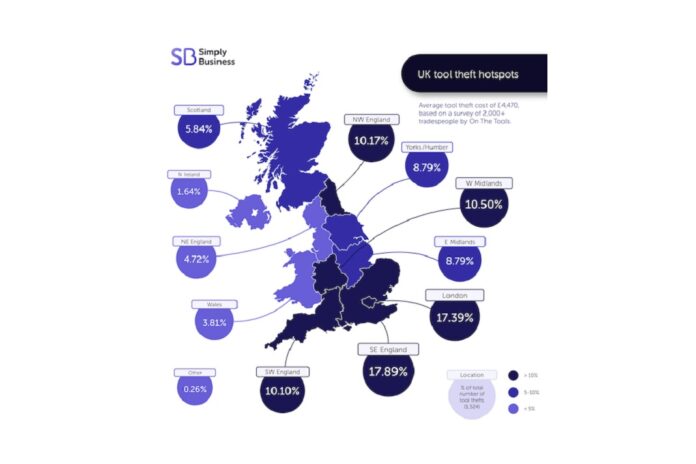 South East England has the highest rate of tool theft, with 18% of tool theft incidents happening in this region, according to a survey of over 2,000 tradespeople across the UK.
Simply Business and On The Tools have identified the UK's tool theft hotspots amid a growing 'tool theft epidemic'. 
London comes second to the South East with 17% of tradespeople reporting having their tools stolen in the area. This is followed by the West Midlands where 11% of tool thefts take place. Data also shows that tools in Northern Ireland are the least likely to be stolen, with less than 2% of tradespeople reporting thefts.
Simply Business is issuing a warning to tradespeople working around the country as the figures reveal that the winter months – with less daylight hours – see a noticeable uptick in the amount of tool thefts, reaching a peak in November. The company has also launched a competition to give away 10 van security packages worth up to £2,000.
Furthermore, 58% of tradespeople believe that a rise in tool theft is inevitable due to the cost of living crisis. Tool theft is already having a significant impact on tradespeople across the UK, with 78% being directly affected by the crime – totaling an estimated £2.8bn worth of tools stolen across the UK, the survey has found.
Alan Thomas, UK CEO at Simply Business, said: "Tradespeople, like so many other business owners across the country, continue to battle rising costs, surging energy prices, and material shortages, all while continuing their recovery from the impact of the pandemic.
"That's why we've re-launched our campaign to Stamp Out Tool Theft. We hope that by shining a light on the scale and depth of the problem, revealing the true stories of those affected, and offering practical support for the community, we can contribute positively to change."
Lee Wilcox, CEO of On The Tools, added: "The Tradespeople Against Tool Theft white paper was created to reveal the widespread consequences of this crime, from the financial impacts to the emotional consequences and more.
"I am hopeful that by distributing this white paper to all corners of the construction industry and beyond, we can encourage the issue to be taken as seriously as it should be, improving the situation for UK tradespeople once and for all. I would also like to thank the industry sponsors and supporters of this research for your invaluable contributions."