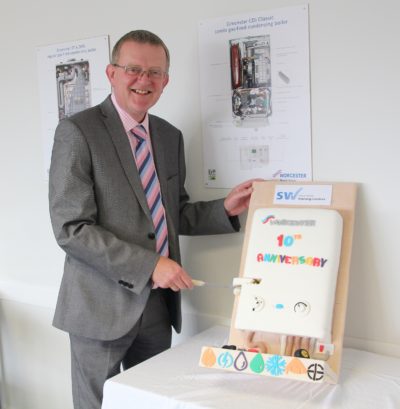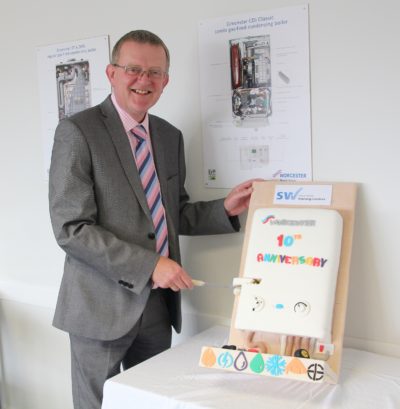 Steve Willis Training is celebrating its tenth anniversary of its Portchester Training Centre in Hampshire with a boiler shaped cake.
Martyn Bridges, director of marketing and technical support at Worcester, Bosch Group, cut the ribbon at the opening ceremony ten years ago, and came back again for more cake cutting duties.
Having such a long-standing relationship with an industry supplier such as Worcester ensures that the training centre can provide the latest equipment and technologies for its trainees. In turn, engineers and apprentices become more skilled at working on Worcester appliances.
Managing director, Steve Willis, said: "We have been working with Worcester for over 20 years, and its support has always been second to none. This allows us to keep our customers up to date with technological advancements in boilers and related industries."
Martyn added: "As a very practical line of work, the heating and plumbing industry needs facilities like this to allow its engineers to benefit from hands-on training. Maintaining such a commitment to professional development for a decade is a great achievement and I'm sure plenty more plumbing and heating engineers will pass through the centre's doors over the next decade and beyond."
For more information about Steve Willis Training Centres, call: 01444 870860 or visit: stevewillis.com.