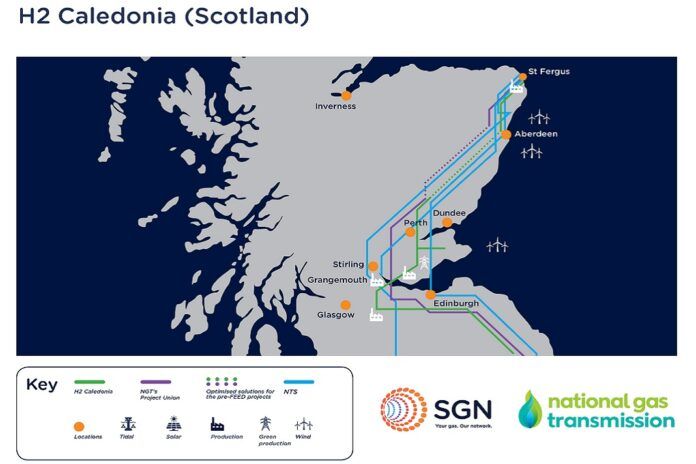 SGN has announced it is 'stepping up' its hydrogen plans by accelerating work to develop and connect key hydrogen production and storage sites.
Over the next 12 months, the gas distribution company is to undertake three pre-FEED studies in Scotland and southern England to determine the route and design of hydrogen transmission infrastructure to support its wider ambition to decarbonise heat in homes.
A statement has said that the work will also explore how existing networks can support the development of the Scottish and Solent Clusters, as well as the likely cost and timescales of any new infrastructure required.
All three projects will connect to the national transmission system operated by National Gas Transmission (NGT), SGN has said. They will work alongside Project Union, an NGT project to create a UK hydrogen backbone, transporting 100% hydrogen, and connecting production and storage facilities with end users.
This hydrogen backbone is expected to comprise up to 2,000km of existing pipeline assets that will be repurposed in phases. This represents a quarter of the UK's current transmission network, meaning minimal new infrastructure will be needed by the early 2030s.
H2 Caledonia combines two pre-FEED projects in Scotland's Central Belt and Fife's East Coast, and will integrate with the ongoing Aberdeen Vision study. These projects will explore the development of blue and green hydrogen production across Scotland, and the creation of a hydrogen ecosystem.
Meanwhile, H2 Connect will develop an optimal design to connect a hydrogen network in central southern England. This project will focus on the future expansion of hydrogen production, storage and imports in the Solent region.
Fergus Tickell, SGN's hydrogen solutions lead, said: "To meet the UK and Scottish government's respective net zero commitments, the system transformation of the gas networks to 100% hydrogen offers customers and policymakers a potentially low-disruption and cost-effective decarbonisation pathway for home heating and industry. The projects represent continued preparation of our gas network to distribute greener alternatives to help meet government net zero targets.
"H2 Caledonia, H2 Connect and Project Union are key drivers in demonstrating how the gas industry can safely and practically transport hydrogen through its network of pipes, plus the strategic planning required for system transformations, while converting gas networks in an affordable and practical way that guarantees the continued security of supply to consumers and businesses."
Danielle Stewart, project union director at NGT, added: "Together, these projects stretch the length and breadth of Britain. They're ambitious but practical contributions towards hydrogen becoming a mainstream clean energy solution. As well as decarbonising gas networks, the projects have the potential to improve our energy security and resilience and empower a UK-wide hydrogen economy.
"The outcome will be a programme of 'no regrets' investments to inform energy policy and enable both the UK and Scottish Governments to make progress in realising its hydrogen ambitions. We believe hydrogen will deliver the flexibility our energy system needs at the lowest long-term cost to the consumer – exciting projects like these are demonstrating that."