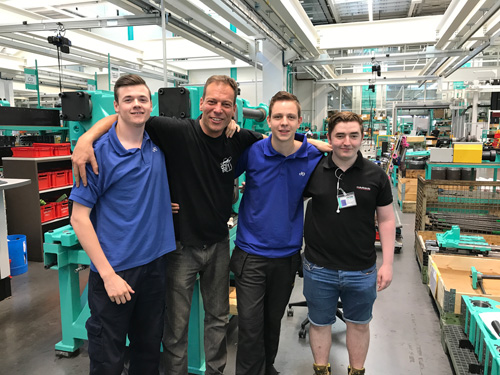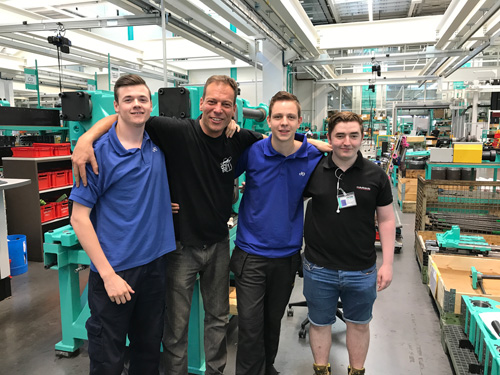 An exchange programme between two heavyweights of European manufacturing has been labelled a roaring success by participants following its conclusion.
The joint initiative between John Guest and Arburg saw selected individuals from the two companies take part in an intensive four-week programme aimed at upskilling the next generation of apprentice engineers.
As part of this, participants from John Guest underwent a series of short placements within different departments at Arburg's production facility in Lossburg, Germany, including pre-assembly, final assembly, injection moulding and robotics.
By gaining exposure to each stage of the manufacturing process, the young engineers came away with an improved knowledge of manufacturing best practice, providing them with a worthwhile insight into the philosophy and technical capability of their European counterparts.
In exchange, young apprentices at Arburg joined John Guest in its West Drayton manufacturing plant to understand more about the injection moulding process it undertakes throughout the production of its plastic push-fit connectors.
The programme marks the next step in a longstanding relationship stretching back to 1982, which has seen the two businesses continue to collaborate across the globe. Plastic-injection moulding machinery from Arburg forms an integral part of the John Guest manufacturing process, enabling the UK manufacturer to produce its range of plastic push-fit fittings and components.
In witnessing the construction of Arburg machinery, John Guest's apprentices came away with an improved appreciation and understanding of the equipment they operate on a daily basis. Working in a foreign country also gave them a chance to experience new culture and gain valuable life skills in the process.
Tony Adams, senior moulding manager at John Guest, said: "We see the programme as a great way to reward the outstanding work being done by our apprentice engineers. While undoubtedly a steep learning curve, experiences like this allow participants to develop new skills and knowledge that will prove invaluable throughout their careers.
"This is an important phase in the development of our next generation of injection moulding experts. The personal benefits for participants cannot be overstated either, and we hope that young engineers from both sides will look back on the experience as a positive, fulfilling one, which they will remember for the rest of their lives."
Colin Tirel, managing director at Arburg, added: "The programme was a great way of cementing the already strong links between the two businesses, laying the foundations for continued collaboration in the years to come."