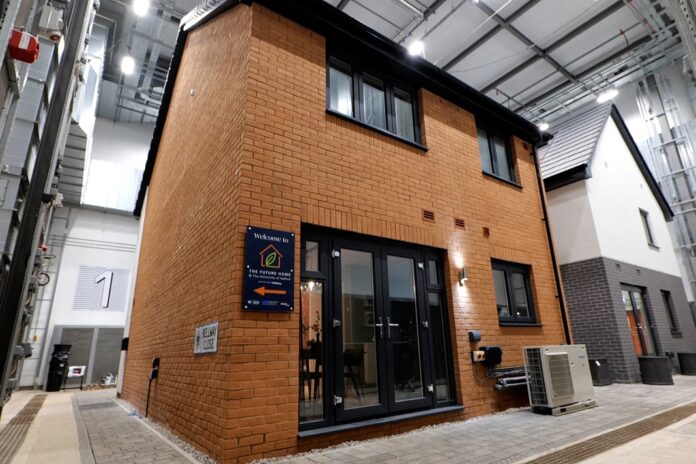 Resideo has supplied Bellway with its Honeywell Home evohome smart thermostat. It is installed alongside a low carbon heating system inside Bellway's 'The Future Home' as part of Energy House 2.0 – a lab-controlled research project testing various energy scenarios within new build homes, located at the University of Salford, UK.
Energy House 2.0 is a collaborative project between partners including the University of Salford, Bellway, Barratt Developments and Saint-Gobain. The £16m research facility, part-funded by the European Regional Development Fund (ERDF), is set to enable SMEs to innovate and develop low carbon technologies for the built environment.
Resideo has donated the Honeywell Home evohome to the project, which was installed in the Future Home. The two-storey three-bedroom property has been built inside the University's climate-controlled lab, which can simulate a full year of climate conditions including humidity, rain and even snow.
With nine rooms in total, 12 radiators and three underfloor heating zones, the Honeywell Home evohome was selected for its smart zoning technology, Resideo representatives have said. It uses radiator controllers to wirelessly measure and control temperatures for up to 12 zones individually.
The Future Home at Energy House 2.0 is set to test how low carbon heating technologies will work in combination with building fabric, efficient services and renewable energy generation in real world scenarios. Heating and hot water needs are provided by a 5kW Panasonic air to water heat pump with 3:1 modulation, stored hot water and integrated buffer tank, as well as an internal heat pump upstairs.
Several different test conditions and system configurations are set to be trialled throughout the two-year project, with the research and analysis led by Dr Richard Fitton, professor of building performance at the University of Salford. As well as reducing a home's carbon footprint, Bellway will also be looking at the most cost-efficient ways to help customers reduce their energy bills.
Ian Lawley, Resideo's national business development manager for new build, said: "The Honeywell Home evohome smart system is an ideal solution for the Future Home at Energy House 2.0 where new technologies like heat pumps are installed. Its zoning capability can be easily reconfigured to divide up the zones and it is compatible with traditional boilers, modern high-efficiency combi boilers, heat pumps, underfloor heating, and standard radiators."
The Future Home is equipped to run full radiator zoning, mixed zoning, a basic two zone system, with and without buffer. It is fully instrumented with heat meters on all water circuits and as part of the trial will welcome test subjects to live in the house to test the system.
As well as set-up and commissioning, Resideo has also provided training to the installers on site including Bellway's Site Agent and the plumbing contractor, MB Heating.
Jamie Bursnell, group innovation and technical manager for Bellway, added: "The initial feedback we have received from our team on site has been very positive, with key highlights being that the evohome is intuitive and easy for professional installers to use, whilst working effectively with the heat pump units."