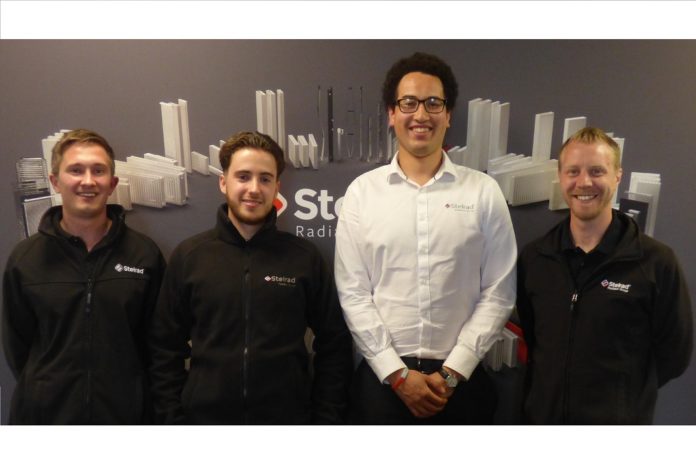 Stelrad is celebrating the fourth year of the launch of its brand specialists team by promoting four of the team to senior brand specialists.
Steven Preston, who looks after the South West, Jonathan Roberts who manages the whole of Wales, Stuart Dixon, Central region, and Andrew Voice, the south coast, have all been promoted after successfully proving the concept of having a team of brand specialists to be the face of Stelrad in merchant branches across their territories.
The team – now 12 strong – comprises individuals whose role is to meet merchant branch staff and installers at their merchant branches to introduce new products and new concepts for the use of radiators to the people who are at the sharp end of the business.
The brand specialists travel their territories in distinctive Stelrad branded minis and have equally distinctive Stelrad workwear uniforms that make them stand out from the crowd.
Stelrad's head of marketing Chris Harvey said: "There were some doubts about the likely success we would have from this team when we formed it – but the past almost four years have proved that making the effort to be out there face to face with customers is really appreciated. The team has changed quite a bit over that time, but we've decided to promote the four originals that are still with us to reward their loyalty and to reflect the increased knowledge base they represent.
"They provide very real benefits – both to the company and the merchant staff and installers they meet on a regular basis across their territories. We're delighted with the contribution they make to the business and its been one of the best decisions we have made in recent years to push ahead with the team and build it across the whole country. The feedback we get regularly from merchants and installers is exceptional."