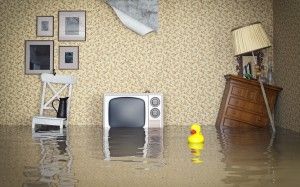 Plumbing contractors are being warned to take extra care over the installation of push-fit pipes after a spate of high value claims for water damage. In the past year, ECIC, the specialist insurer for the construction industry, has seen a marked increase in escape of water claims resulting from push-fit pipes that have burst open under pressure causing extensive and expensive property damage.
The value of claims from poorly fitted push-fit pipes can vary dramatically from a few thousand pounds in a domestic property to hundreds of thousands pounds in a commercial environment. In one case settled by ECIC, the damage caused in a care home by water was so severe it caused £500,000 of damage.
The speed of making a connection with push-fit fittings is perhaps the biggest advantage for plumbers. In an emergency it is possible to quickly cap or repair a pipe by simply pushing on a push-fit fitting. In addition, there is no need to solder or use glue to make connections and they are easily removed so they can be repositioned as needed. However, as with any plumbing equipment, the installation and fitting is key, with only a small amount of error on the part of the plumber potentially leading to thousands of pounds worth of damage.
Ian Hollingworth, claims manager for ECIC said: "We have seen an upsurge in escape of water claims in recent years, and the increasing use of push-fit pipes has, without a doubt, contributed to this rise. While these pipes, when they are installed correctly, are incredibly fast to fit and cost effective, if the job is performed incorrectly, the fitting, as we have seen, will burst causing extensive water damage. By ensuring that anyone fitting push-fit pipes is trained appropriately, and that care is taken to do the job correctly, plumbing contractors will be able to avoid damage, both to the property in question, but also their reputation and bottom line."