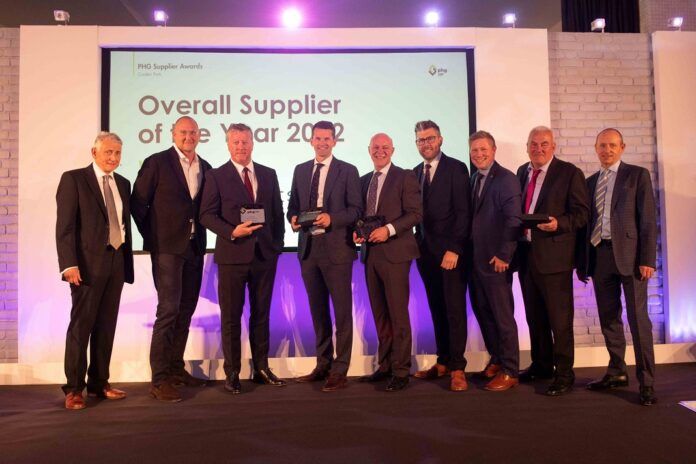 The Plumbing Heating Group (PHG) hosted the PHG Supplier Awards at the Carden Park Hotel in Chester on 25 May 2023.
The PHG Supplier Awards celebrate and recognise excellence in the plumbing, heating and bathroom industry, a statement said. Over 251 guests from those sectors attended the event, including 186 supplier representatives joined by 61 PHG representatives.
The awards were presented by David Pochin, PHG's chair. This included the following categories:
PHG INSTINCT SUPPLIER OF THE YEAR
The nominees were Ideal Heating, Imex, Roper Rhodes and Scalemaster. The award was given to Roper Rhodes.
PHG PLUMBING SUPPLIER OF THE YEAR
The nominees for this award were Altecnic, Inta, Lawton Tubes, RWC (Reliance Worldwide Corporation), Siamp and Viva. RWC was the winner.
PHG BATHROOM SUPPLIER OF THE YEAR
The nominees were Crosswater, Ideal Standard, Roman and Roper Rhodes. Crosswater won the award.
PHG HEATING SUPPLIER OF THE YEAR
The nominees were Gledhill, Ideal Heating, Resideo and Stelrad. Stelrad was the winner.
PHG OVERALL SUPPLIER OF THE YEAR
Roper Rhodes was the winner.
David said: "The PHG Supplier Awards Event brings together a fabulous group of people with shared values for delivering the best in our industry. It's a great pleasure and privilege to be amongst them."
As part of the celebrations, guests were able to take part in a Driving Experience at Oulton Park Circuit or play golf at Carden Park during the day. Other activities included archery, segways, football darts, a live clay shoot and a spa day experience.
This was followed by an Awards Dinner at the Cardon Park Hotel in the evening, which included a speech from David at PHG and an Awards Ceremony.
To conclude the evening, comedian Milton Jones provided great entertainment with his unique observations on life.
PHG also raised over £4,500 for Cancer Research, in memory of Nick Woodhouse, after hosting a charity raffle at the event.