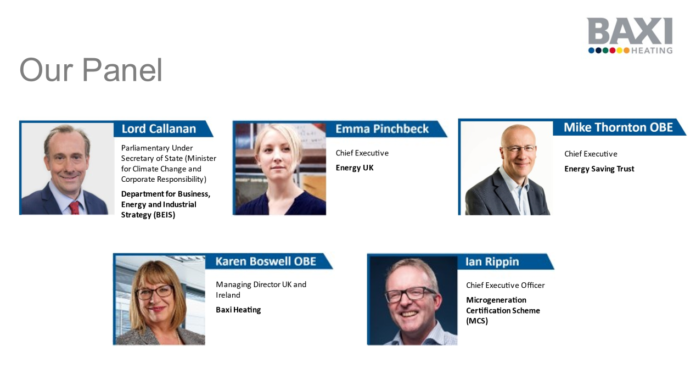 BEIS parliamentary under secretary of state for climate change, Lord Callanan, joined an expert industry panel to discuss the beginning of the journey to zero emissions late last month.
The widely-held view was that it was becoming essential to explain the benefits and transition path to new forms of low-carbon heat, namely hydrogen boilers, heat pumps and heat networks.
Karen Boswell OBE, managing director of Baxi UK & Ireland, opened the virtual seminar by outlining the company's plans. This included Baxi's ongoing research and development of low carbon technologies and its own role educating customers and installers.
The expert panel was also attended by Emma Pinchbeck, CEO of Energy UK, Ian Rippin, CEO of Microgeneration Certificate Scheme and Mike Thornton, CEO of Energy Saving Trust.
Karen Boswell said: "We are pleased to have started the first of many discussions which demonstrate Baxi, the government and key industry organisations are fully committed to plans for the decarbonisation of heating and buildings.
"Making low carbon solutions readily available, ensuring there is a rich body of professionals to install them, and engaging the general public will be key to starting this progress. We can't wait for a single, clear-cut solution that will likely never arise. Right now, we must get consumers and industry professionals on side to support the solutions, training and new services that are needed long into the future.
"Baxi is committed to leading the low carbon heating revolution. All products we manufacture will from 2025 work with low carbon energy sources and we have pledged that, by 2030, we will be net zero across our operations in the UK.  In the meantime, we're eager to get the conversation started with our industry partners and customers to ensure we make the transition that is coming is as smooth as possible."