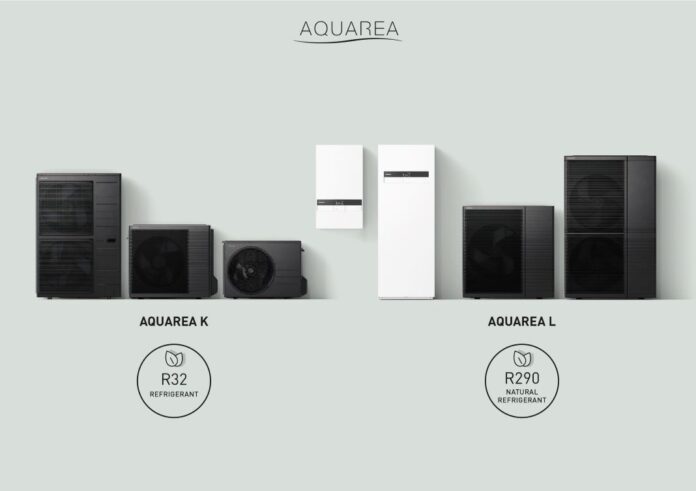 Panasonic has expanded its European Aquarea heat pump offering with the addition of two new ranges with lower noise levels and added efficiencies.
Aquarea K and L generations will launch throughout Europe from spring next year, supplied with a new remote control as standard, it was revealed today at the Interclima exhibition in France.
The new models were focused on improving energy performance and used a natural refrigerant, with their outdoor units redesigned with a premium anthracite chassis.
During a press briefing in Paris this morning (03.10.22), Panasonic president, heating & ventilation A/C company Masaharu Michiura said the company was looking to reduce global CO2 levels while expanding.
With Europe the leading market for renewables, he recognised the shift from fossil fuel heating and towards air to water heat pumps. As a result Panasonic was to strengthen its European manufacturing and R&D operations.
Panasonic managing director PHVACEU Enrique Vilamitjana added that the new Aquarea ranges would be available in the UK from May 2023.
"Europe is creating a fantastic new green future. We want to contribute to this and make it real," he said.
Following the release of fresh government funds to bring down costs of UK heat pump installations and grow the market, Enrique agreed more affordable appliances helped progress but told HPM more consistent regulations were needed.
The Aquarea K generation utilises R32 refrigeration, while the L generation uses the natural refrigerant R290, allowing a water outlet temperature up to 75°C. The K generation retains a refrigerant link between the outdoor unit and the indoor unit, while the L generation features a hydraulic link, it was explained.
Both generations benefit from a reduced noise level, up to -8dB(A) less than previous models, it was added, and boast an improved SCOP of up to 5.12.