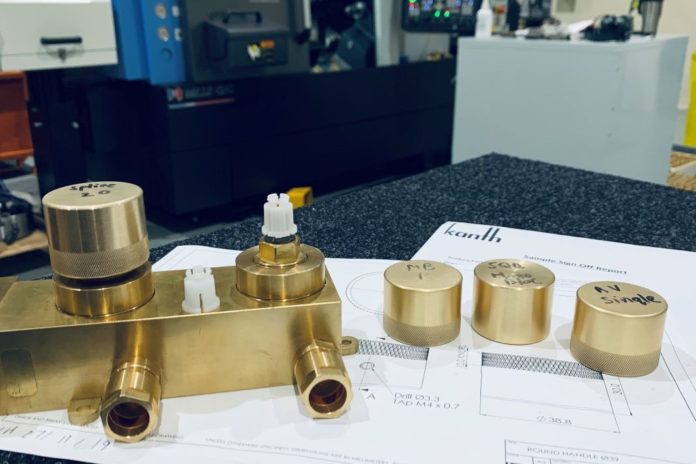 Two UK manufacturers have formed an unlikely partnership designed to "revolutionise the premium end of the shower industry".
Following a dissolved agreement with its previous distributor, Kanth received various offers from across the industry but it was with long-standing and trusted supplier, Smiths Metal Centres, that it found the right partner to launch a collaborative business venture.
The new company — Kanth Manufacturing — will benefit from the financial backing and support from Smiths Metal Centres, which has seen the opening of a brand new, state-of-the-art manufacturing facility.
The 10,000 square foot operations hub in Shropshire has complex CNC precision machines able to transform a solid piece of pure brass ingot into a finished shower product. Alongside the in-house design and manufacturing, the site also houses dedicated sales, distribution, assembly and customer service teams.
Founder Karl Kanth said: "We're delighted to form this new partnership with Smiths Metal Centres, a company with which I've had a long and positive relationship with over the last 15 years.
"My vision for the brand has been clear from the outset — to produce exceptional shower systems which are truly built to last, by using only the highest quality raw materials, precision machining, British resources, and timeless designs. Working with a distributor who didn't share this vision has proved difficult over the last few years, so I made the decision to part ways.
"But Smiths Metal Centres perfectly understood the principle-led approach we were taking and the potential in the sustainable luxury market. They operate in a non-bathroom sector too, so they have a very fresh and non-traditional approach which wholeheartedly supports our continuous drive to innovate."