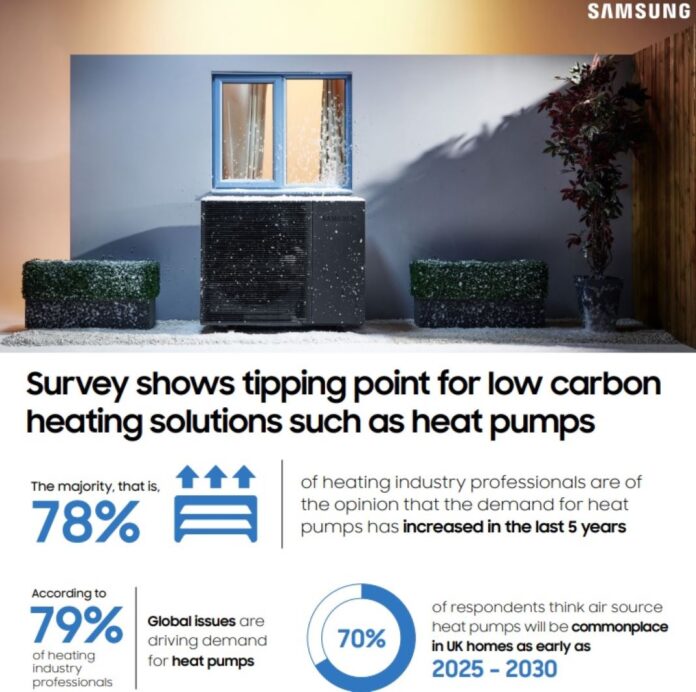 New research by Samsung has shown 70% of heating industry professionals expect heat pumps to become commonplace in the UK this decade.
A Samsung study showed 78% of heating industry professionals said demand for heat pumps had increased in the last five years.
Nearly four in five said global issues were driving demand for technologies like heat pumps.
Having consulted 200 heating industry professionals, Samsung found 66% cited energy efficiency as the most important consideration for their customers when installing a heating system. Only 23% of current heating industry professionals are already fully trained to be an air source heat pump installer though, and nearly three in five are not considering training at all.
In addition to further government support, 77% agreed that there should be more support from the industry and manufacturers to help install more heat pumps. In total, 65% of respondents say making changes to radiators or household heat emitters is the number one consumer barrier to heat pump adoption while 62% also highlight concerns about the reliability of the technology at low outdoor temperatures.
Joseph Raftery, heating product manager at Samsung Climate Solutions, said: "The government Future Homes Standard of 2025 is drawing ever closer, ruling out fossil fuel heating in all new build developments. This is a major milestone for our housing sector, reflected in the fact that 78% of heating industry professionals say demand for heat pumps had increased in the last 5 years. There's never been a better time for installers to work with architects and developers to incorporate low carbon heating solutions into property designs."