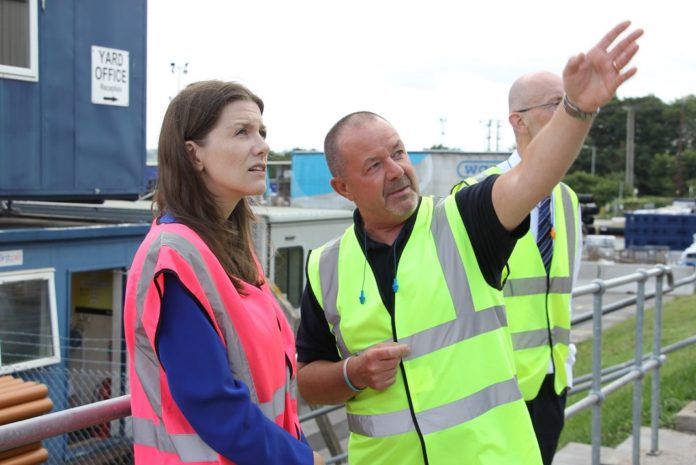 Wavin, a manufacturer of plastic pipe systems, has welcomed local MP Michelle Donelan to its Chippenham site, where it shared its progress on its ongoing investment in the manufacturing facility and commitment to the local economy.
A leading employer in the Wiltshire area since 1983, Wavin has recently invested over £17 million on the 42-acre site, which employs over 500 people.
The MP was welcomed to the site by Wavin's Territory Director for UK and Ireland, Mike Ward, before being given a private factory tour by Site Operations Manager, David Ray. The Wavin team shared details of the recent expansion, which has created 120 new jobs. Increasing the site's footprint by 40 per cent, the investment has seen the addition of four new manufacturing bays, six extrusion lines and 29 injection moulding machines.
In addition, she was also provided with an overview on the future plans for the Chippenham site. She learnt about a further £7 million that Wavin is currently investing in the manufacturing plant and tooling. David also explained how the recent expansion has provided additional space and flexibility for future growth of innovative new products.
As well as the tour, she also had the opportunity to learn more about Wavin's commitment to supporting the local area through a range of joint initiatives with local colleges, schools and community groups. This includes creating training and employment opportunities with local enterprise partnership, Higher Futures, and offering training and placements to students from numerous local schools and Chippenham Wiltshire College.
Speaking about her experience, MP Michelle Donelan commented: "Wavin is such an important company to our local economy, employing 500 people across a 42-acre site. They are growing from strength to strength and we spoke about the importance of their apprenticeship schemes giving young local people some fantastic career opportunities."
Mike Ward added: "It's fantastic to see the recognition that our Chippenham site is receiving for its commitment to sustainability and the local economy here in Wiltshire.  We're delighted to have to opportunity to show MP, Michelle Donelan, what we are achieving here. The investments we make into our factories are taken to not only ensure a stable and continued path of progression for our company, but to also help provide jobs for the surrounding areas. We're proud to say this is the case here at Chippenham."