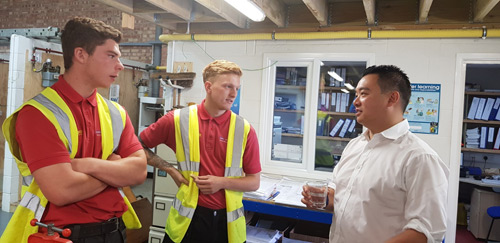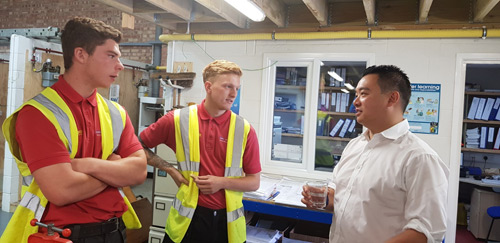 Steve Willis Training Centres has welcomed Havant MP Alan Mak to its Portchester Training Centre. He was there to find out about apprenticeship training and was met by MD Steve Willis and Gary Robinson from local heating company Aura Gas.
Aura has three gas apprentices about to complete the first year of their apprenticeships, and Alan was keen to find out about the training programme. He toured the centre, watched the gas class in action and then chatted to two of the apprentices over coffee.
Billy Simmonds, 17, and Frankie Small, 20, both from Havant, told the MP about why they chose to start their careers in the gas industry with an apprenticeship, and how they are enjoying their training.
Mr Mak was also interested to learn more about the role of apprenticeships in the gas industry and how they are helping meet the skills shortage. Apprenticeship provision at Steve Willis Training is expanding to meet increased demand from companies such as Aura Gas.
He said afterwards: "I'm committed to boosting apprenticeships, as they give young people the opportunity to learn a valuable skill while earning at the same time and raise the productivity of businesses. Our apprentices are the future of our economy."