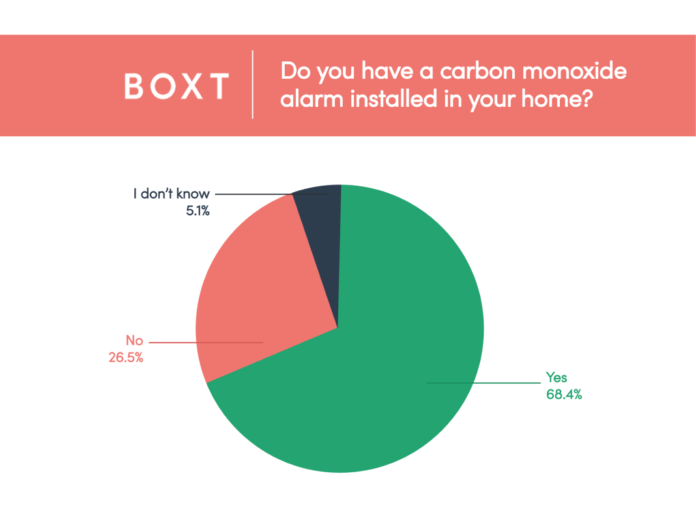 A survey of 2,000 UK residents from BOXT has revealed that 26.5% of respondents do not have carbon monoxide alarms installed.
In the study taken for Gas Safety Week (13 to 19 September), 12.3% of respondents admitted to never testing their smoke and carbon monoxide detectors, with another 7.8% not knowing where their alarms were.
Moreover, 12.7% of respondents do not know what to do in the instance of a carbon monoxide leak, with only 25% recognising the main six symptoms of exposure to the fumes.
The study also revealed that 14.1% never check their gas appliances despite it being recommended they are check annually. However, COVID was blamed by 15.1% for not doing this in the past year, as homeowners wanted to minimise the amount of people in their home.
Another 13.6% didn't know they needed to conduct these safety checks, and another 11.1% didn't think it was necessary. The cost was also cited as the reason by 8.8% of respondents.
Andy Kerr, co-founder of BOXT said: "Carbon monoxide leaks are easy to miss if you don't have a working detector, as you can't see, smell, or taste the poisonous fumes.
"Every second counts after being exposed to carbon monoxide. So, you must be able to recognise the signs of carbon monoxide poisoning and know how to respond in the event of a leak."
"The symptoms of carbon monoxide poisoning can also be linked to various other illnesses but unlike the flu, it won't cause a high temperature. Some even confuse it for food poisoning, tiredness, or a hangover, so it's critical to fit an alarm that will detect a leak."