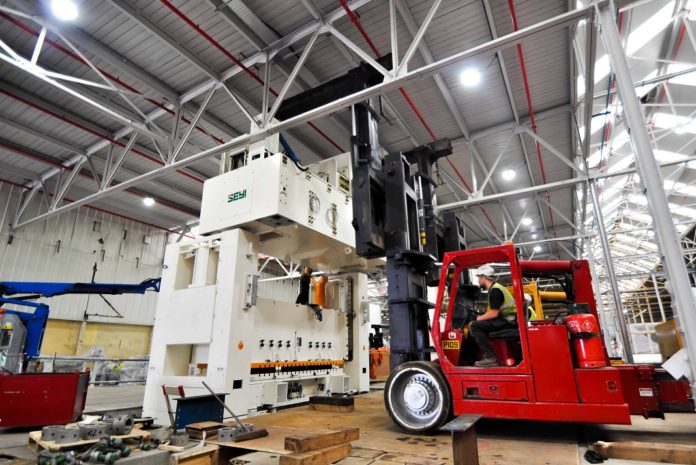 Heavy machinery moving specialists Joseph Merritt Group has been appointed to transport and install four SEYI Presses on behalf of PressCare UK.
The SLG2-400-S5 presses were being installed at the Ideal Boilers factory in Hull, East Yorkshire. Ideal Boilers has over 100 years of providing the best quality boilers to its customers while continually working to meet ever-changing heating needs into the domestic and commercial heating markets.
Presscare UK is based in Walsall and specialises in the design and integration of machine control and safety systems and is the UK Agent and EU Technical Representative for the SEYI press manufacturing group, based in Taiwan.
The packaged machines arrived in the UK on 8 flat rack trailers. Merritts collected the trailers from docks and delivered by road to the Hull site. Merritts unloaded the cases using a Versa-Lift 60/80 forklift and transported the type SLG2-400-S5 presses using specialist trailers. Once onsite at Ideal Boilers, the machines were offloaded, and the cases returned to docks.
Each machine was then carefully unpacked and moved whilst still on its base frame into the facility. An Enerpac Superlift hydraulic lifting gantry had been assembled over the machine pit and slings attached to the gantry and base frame. This combination of lifting tackle enabled the machines to be lifted into place ready to be assembled and connected by PressCare engineers.
Commenting on the project, Neil Walls, PressCare UK, operations director said: "The project planning and execution was delivered to an exceptionally high standard resulting in a smooth installation. Site operatives were extremely helpful and fully aware of all relevant health and safety compliance requirements."
James Merritt, managing director of Merritts, which is based in Nottingham added: "This project is a prime example of our ability to liaise with port authorities, heavy machinery manufacturers and their agents and distributors. We see ourselves very much as part of their extended team trusted to provide the very best customer service and whilst also ensuring their machines are transported and installed safely and on time."