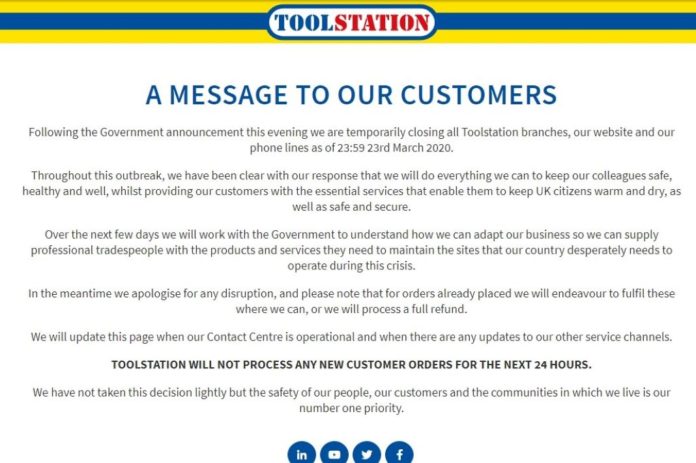 Following the government decision to lockdown the UK in a bid to battle the coronavirus outbreak, plumbing merchants have closed across the land.
Toolstation updated its homepage immediately to confirm its branches, online and phone lines were temporarily closed as of 23.59 on 23 March.
A company statement said: "Throughout this outbreak, we have been clear with our response that we will do everything we can to keep our colleagues safe, healthy and well, whilst providing our customers with the essential services that enable them to keep UK citizens warm and dry, as well as safe and secure.
"Over the next few days we will work with the government to understand how we can adapt our business so we can supply professional tradespeople with the products and services they need to maintain the sites that our country desperately needs to operate during this crisis.
"In the meantime we apologise for any disruption, and please note that for orders already placed we will endeavour to fulfil these where we can, or we will process a full refund."
Meanwhile, City Plumbing/PTS said it would close all branches, offices and distribution centres for 24 hours whilst it seeks further clarification and guidance from the government regarding the essential business classification.