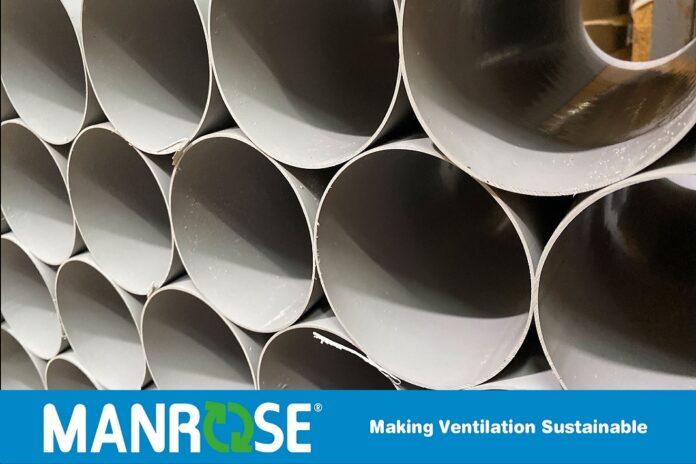 Manrose has welcomed Global Recycling Day, taking place on 18 March 2023.
Global Recycling Day aims to highlight the importance recycling plays in preserving the planet's resources. Manrose has said that it is helping achieve this aim by making ventilation more sustainable for installers, specifiers, contractors, developers and wholesalers with its 100% recycled ducting range.
Manrose has said that 100% of its PVC ducting made from recycled window frames, while plastics extracted from old fridges are used to create ducting components. In addition, Manrose has invested in energy efficient moulding and tooling equipment for its manufacturing site, offering increased supply capacity based on demand, while reducing its impact on the environment.
Global Recycling Day, organised by The Global Recycling Foundation, is in its sixth year. Each year recyclables save over 700m tonnes in carbon dioxide emissions, and this is projected to increase to one billion tons by 2030, making recycling a key part of the circular economy and essential in protecting natural resources.
Clive Britton, senior sales director at Manrose, said: "We're delighted to celebrate Global Recycling Day and the wider awareness of the importance of recycling this brings. Increasingly our customers are looking for more sustainable products and we are aiming to make this as easy as possible for them.
"Our recycled ducting range offers more sustainable choices and, thanks to significant investment in our manufacturing process, we have increased our capacity and therefore stock levels. Our customers have always known Manrose for its reliability and now we are helping make ventilation sustainable for them too.
A statement has said that the company's Lo-Watt products will help customers reduce the energy they use for ventilation and by the end of FY2025, the company is aiming for 70% of its sales from this product range.
Additionally, Manrose has reported that it is investing in R&D and manufacturing technology to develop fans from recycled sources with 90% of the plastic used in its facilities to be from recycled sources by the end of FY2025, without compromising on quality or reliability.