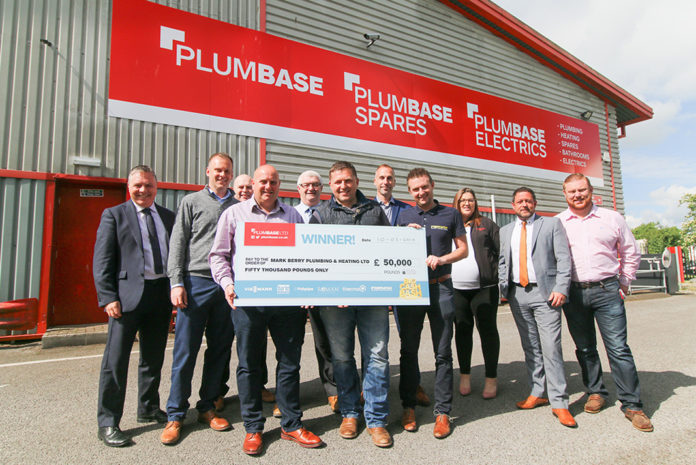 Three lucky installers have each won a share of £65k from their local trade counter after entering a competition from national plumber's merchant, Plumbase.
The Big Cash Bash initiative saw Plumbase team up with Viessmann, Fernox, Barlo, Polypipe, Roman and ThermaQ, to give trade professionals across the UK the opportunity to share the amazing cash prize.
Mark Berry of Mark Berry Plumbing & Heating Limited in North Devon, was lucky enough to win the top cash prize, walking away from his local trade counter with a whopping £50k. The £10k prize was awarded to Mervyn Fowler in Bristol while the £5k prize was collected by Chris Kelly in East Kilbride.
To be in with a chance of winning, each installer had to open a Plumbase Premier Cash or Credit account and spend at least £100 at their local branch or on plumbase.co.uk. For every £100 spent, a single entry was placed into the prize draw. However, multiple entries were made if installers spent this money on any of the six brands that had partnered with Plumbase for the competition.
The scheme was brought to a close at the end of March, and since then the three lucky winners have been chosen from a total of 9,555 entrants via a random prize draw.
Commenting on his £50k win, Mark Berry said: "It still hasn't really sunk in. As far as I'm concerned, these things never happen, so it's just unbelievable. I'd like to say a huge thank you to everyone involved.
"I heard about the competition through my local branch in Barnstaple. Myself or my staff are in and out of branch on a daily basis sourcing everything from boiler parts, to sanitaryware and fittings. We've got a great working relationship, and long may it continue. The branch's regional manager rang me to let me know I had won – it was certainly a nice phone call to take!
"The winnings will go towards the purchase of a small plot of land that my company has been securing over the last year. We plan to build a unit as we have outgrown our current premises, so the winnings could not have come at a better time. We also want to organise a summer party for all of our staff as a thank you for their hard work."
Liam Gibson, head of marketing at Plumbase, said: "This is by far the largest prize we've ever offered as part of a competition. After all, it's not every day that a plumber wins £5k from their local trade counter, let alone £50k. We'd like to extend our thanks to Viessmann, Fernox, Barlo, Polypipe, Roman and ThermaQ, as without them, this competition simply wouldn't have been possible.
"The initiative has helped to strengthen our relationships with local installers and seeing the winners as delighted as they are makes doing things like this so worthwhile. We certainly hope to run similar competitions in the future."