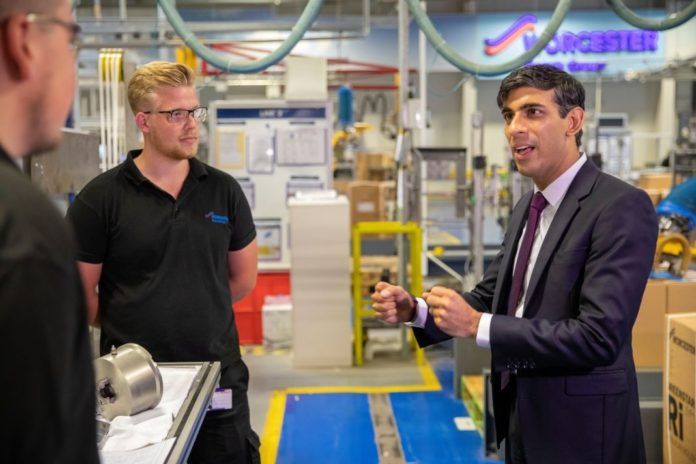 Heating industry experts has reacted to a government update to Net Zero targets this week – calling for a swift transition to renewables.
Prime Minister Rishi Sunak announced the government would be increasing the Boiler Upgrade Grant by 50% to £7,500 towards heat pumps.
The overall national budget for the scheme has not yet been announced.
Henrik Hansen, managing director at Vaillant Group UK & Ireland, said: "The announcement today of the increase of the Boiler Upgrade Scheme to £7,500 will be welcome news to homeowners in England and Wales considering making the switch.
"We await more detail from the announcement made today on the overall budget for the Boiler Upgrade Scheme. If the overall budget is not increased, the number of homeowners able to access the grant will be limited to 20,000 per annum which represents less than 0.1% of the housing stock in the UK, potentially slowing down the transition to heat pumps."
There will also be a delay on the ban on installing oil and LPG boilers, and new coal heating, for off-gas-grid homes to 2035, instead of phasing them out from 2026, the PM announced.
There was also an exemption to the phase out of fossil fuel boilers, including gas, in 2035, so that households who will most struggle to make the switch to heat pumps or other low-carbon alternatives won't have to do so, according to a government statement.
No changes were made to the Future Homes Standard 2025, which phases out gas boilers from new build properties.
Commenting on the Prime Ministers' new proposals for phasing out gas and off-grid oil boilers, Oliver Baker, CEO at Ambion Heating, said: "The news that deadlines to phase out gas and off-grid oil boilers will be 'eased' will cause some uncertainty for consumers. However, for housebuilders and the social housing sector, this news shouldn't change any plans to make the switch to low-carbon forms of heating, particularly for those properties where a heat pump is not suitable.
"For example, for housebuilders, the 2025 deadline for the Future Homes Standard coming into force is fast approaching. And, for the social housing sector, the need to install cost-effective heating solutions that lower emissions, reduce instances of damp and mould, and tackle fuel poverty is a 'today' rather than 'tomorrow' action."
Government also moved back the ban on the sale of new petrol and diesel cars this week by five years, so all sales of new cars from 2035 will be zero emission.
During the Net Zero update, the PM also ruled out less publicised policy ideas, including requiring people to share cars, eat less meat and dairy, be taxed to discourage their flying, or have seven bins to hit recycling targets.