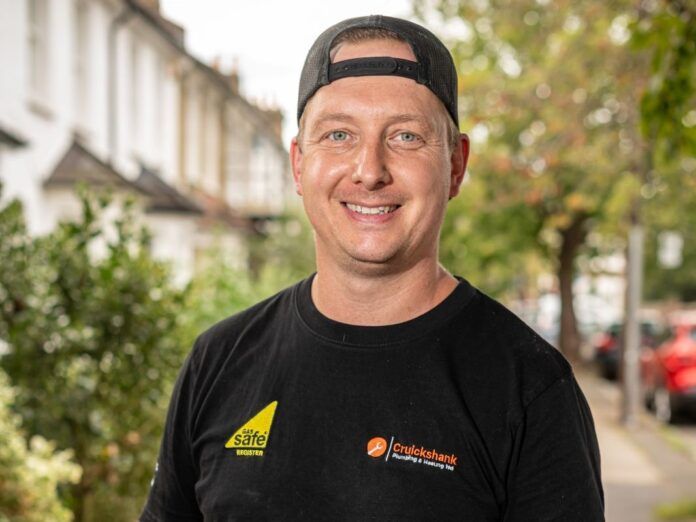 Heating engineers John Cruickshank, pictured, Anthony Sanders, Ross Coen and Michael Goodall have qualified to compete against six other top finalists to become the Screwfix Top Tradesperson 2023.
Screwfix Top Tradesperson attracted more than 1,000 applications this year, with just 10 making the final stage. The final takes place at Screwfix LIVE this week, where the four heating engineers will have the chance to highlight their professionalism, dedication and commitment to the trade in front of a panel of industry experts.
The panel includes representatives from the Chartered Institute of Plumbing and Heating Engineering (CIPHE), the National Inspection Council for Electrical Installation Contracting (NICEIC), and Screwfix Top Tradesperson 2022 champion, Toby Peacock.
The Screwfix Top Tradesperson will receive a trade bundle of tech, tools and training worth £20,000, while earning themselves a spot in the Screwfix Top Tradesperson Hall of Fame.
Jack Wallace, marketing director at Screwfix and judge of the competition, said: "At Screwfix, we know how invaluable tradespeople are to both our economy and the local communities in which they work. Our Screwfix Top Tradesperson competition shines a light on inspirational tradespeople who go above and beyond for their customers, their colleagues, and the next generation of tradespeople, day in, day out."
Screwfix LIVE 2023 has commenced this weekend – celebrating its 10th anniversary at Farnborough International Exhibition & Conference Centre.
The exhibition has 170 brands under the same roof, with visitors entitled to 10% off 50,000 products.
Football legend John Barnes, TV presenter and Olympic champion Samantha Quek, and comedian Iain Stirling will be attending the event respectively on Friday, Saturday and Sunday.
Ben Lainton, Screwfix director of trading, said: "We are thrilled to be back in Farnborough for the 10th edition of Screwfix LIVE and excited to spend this weekend with suppliers and customers. We've got more than 170 brands under one roof for the next three days and 10% off everything. There's something for everyone at Screwfix Live including special guests and activities."