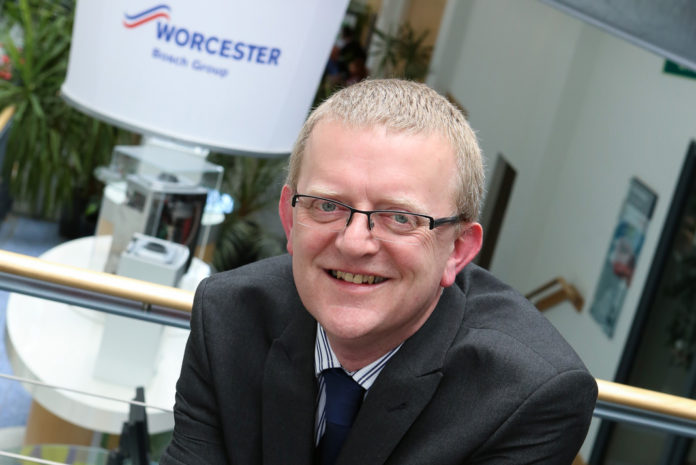 Martyn Bridges, director of technical communication and product management at Worcester Bosch, takes a look at the new UK retrofit standard PAS 2035.
A panel consisting of, amongst others, several certification bodies has recently announced PAS 2035, bringing with a number of new, sometimes confusing measures for those required to fit energy efficient measures. This of course includes heating appliances.
The first point to make, is that this new PAS or publicly available standard was not authored by anybody from our industry. It is the certification market that stands to gain from putting the extra compliance in place, not installers or even end-users.
Currently, the process for getting a new boiler installed is quite simple. A homeowner has had the same boiler for say 15 years and it breaks down. They speak to an installer and request a new appliance, the installer invariably goes to the house to survey the job, they return a couple of days later to fit the new boiler.
To put into context, there are roughly 6,000 boilers installed every day in the UK and on average 1.7 million times a year this fairly seamless activity takes place. Now the authors of PAS 2035 have added more steps into that effective process.
It looks like that there are two new trades that have been introduced – A Retrofit Project Manager and a Retrofit Designer – alongside the existing Retrofit Installer.
Without going into too much detail, the Retrofit Project Manager becomes the first point of call and consults with the homeowner to agree and record the intended outcome of the retrofit. They then ensure a retrofit risk assessment is undertaken for the property. This is then assessed as A, B or C. Let's assume that the project is A.
The next step is that the Retrofit Project Manager makes sure a design a specification document is prepared by a suitably qualified Retrofit Designer. This is then passed onto the installer in writing, who can then cost up the job.
Only then can the installer actually carry out the installation. A lot of steps for something that used to be quite simple but very effective.
Aside from making the process longer and more complicated for installers, who have been doing this job for years and understand retrofitting like the back of their hand, it is the homeowners who will be most affected.
You can imagine that with two more parties involved, the costs for installing a new boiler will go up – and it will be coming out of the homeowner's pocket.
What's more, if you as the homeowner wake up with no heating and hot water as your boiler has broken down you are going to want this to be fixed as soon as possible, especially if in the colder months.  Now not many people actively decide to replace their boiler unless it does stop working. So, imagine you are in a distress situation in a cold house and yet you have to wait for three different people to turn up, arguably at different times, before you even know when your new boiler will be fitted.
Suffice to say, this is going to be extremely frustrating for any homeowner – and with that average of 6,000 boilers being replaced each day, well that's a lot of cold, unhappy people.
PAS 2035 seems quite similar to the Microgeneration Certification Scheme (MCS), which was introduced around 10 years ago for the renewable market.
The intention was to ensure that a homeowner received the best and most suitable advice on what energy saving measures they could have installed in their property. It was however very bureaucratic and required installers and the products they could fit to be MCS registered which required a lot of "back office" paperwork and processes for installers. In fact, this was so bureaucratic that most installers stopped installing renewables as it was simply too time consuming and expensive to comply.
Consequently, this actually contributed to a downturn in the renewables market as people were put off getting solar panels and the like. It is fair to say that the market may never have prospered.
Of course, it will be unlikely that the heating market will experience a huge downturn as we need to have their homes warmed somehow however, it may put off people from opting for a boiler replacement over a repair – something that could be more costly for them in the future.
Overall, this is another example of a regulation body that hasn't approached the industry it will directly affect for advice and discussions. It will be interesting to see what implications PAS 2035 will bring, both for the industry and the general public.