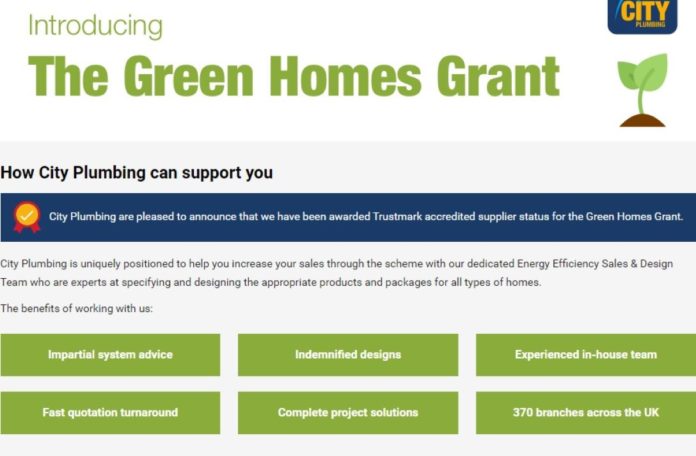 The government's Green Homes Grant has sparked a race for energy efficiency home improvements, according to new research by plumbing and heating trade supplier City Plumbing.
According to its survey of 1,000 homeowners living in England, 84% of homeowners are planning to make their main residential property more energy efficient in the next 12 months. Two-thirds were aware of the financial assistance that the Green Homes Grant could offer them.
The scheme, due to end in March 2021, allows qualifying homeowners and landlords in England to apply for a voucher valued at up to £10,000.
City Plumbing found a quarter of those considering eco improvements intend to use the scheme to help cover the cost. One in ten were already underway with energy efficient changes that have been partially funded by the Green Homes Grant.
According to the research, the most popular energy efficient home improvements that are covered by the grant have been loft insulation, for 21%, cavity wall insulation, 20%, solid wall insulation – internal or external, 17%, under floor insulation, 16% and radiators, 13%
Homeowners who are underway with a large-scale property build project were most interested in solar thermal, 20%, air source heat pumps, 20%, ground source heat pumps, 13%, and biomass boilers. 10%.
Over half of the homeowners surveyed said that they would make these green home enhancements in order to reduce their energy bills, whilst 44% said they would do it as 'it is important for the environment', researchers found.
Steve Alldritt, technical director of City Plumbing's Energy Efficiency Team, added: "For homeowners, making energy efficient changes saves money in the long run, reduces environmental impact and can even make a property more appealing to future buyers. It really is a 'win-win' situation – particularly while the government's Green Homes Grant can help to cover the initial installation costs.
"The research shows that demand for 'green' upgrades is high, whether it be low carbon heating, biomass boilers or heating controls. The opportunity is there for tradespeople to cash in on, but time is of the essence.
"We have created a guide for installers that helps explain what support and advice we can offer at City Plumbing, to help increase their sales through the scheme."