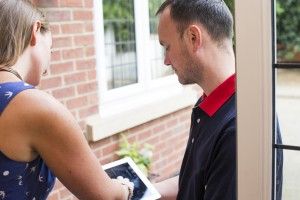 The statistics from the HomeOwners Alliance's 2015 Homeowner Survey and TrustMark – the government endorsed 'find a tradesman' scheme for all trades in and around the home – reveal that homeowners heads are being turned by cues such as prompt arrival (84%), using polite language (51%) and even taking their shoes off at the door (38%). Age is also a factor with nine times as many homeowners saying that an older and more experienced person was a sign of a good tradesman (39%), rather than a younger person with recent training (four per cent).
When asked about the checks householders undertake before hiring a tradesman, traditional checks such as visiting a former client's project or asking for written references from former clients are done by only a minority of people (39% and 28%) compared to twice as many people who rely on personal recommendation (81%).
Almost half of homeowners (46%) say they would check if the tradesman was in a doorstep directory, when often these are paid for advertising slots with few checks done.
On smaller jobs, less than half (39%) of homeowners would check that a receipt or invoice will be given, despite recent prompts by Shadow Chancellor, Ed Balls.
Previous data from TrustMark revealed that incompetent tradesmen cost UK homeowners £1.9 billion between 2013 and 2014, five times more than domestic burglary claims.
Paula Higgins, CEO of the HomeOwners Alliance, said: "People don't want flash tradesmen, but ones that show good old fashioned values of listening to what their customers want, turning up on time and giving upfront quotes. It can be a complete nightmare getting the wrong tradesman in, so it is really worth investing the time to make sure you get the right one."
Liz Male, Chairman of TrustMark, said: "The research certainly shows that the UK is at risk of letting the wrong ones in. Rogue traders are the vampires of the sector, seeking out vulnerable homeowners and taking valuable jobs away from the best tradespeople in the country. Checking recent work and up to date qualifications are vital checks."