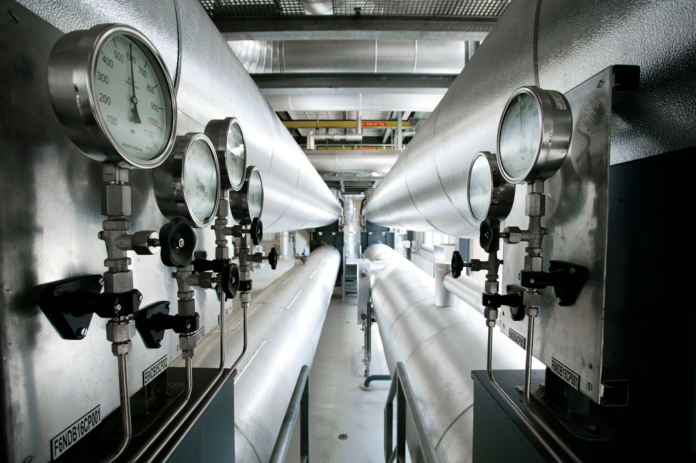 Triple Point Heat Networks Investment Project (HNIP) has awarded a large amount funding towards reduced carbon heat network projects in Manchester, London and the village of Swaffham Prior, Cambridgeshire.
The HNIP is a government funding programme that aims to increase the number of heat networks being built, deliver carbon savings and help create the conditions necessary for a sustainable heat network market to develop
Swaffham Prior 
With government support, Swaffham Prior Community Land Trust and Cambridgeshire County Council have created a collaborative community heat scheme that provides a blueprint model which can be replicated in other communities across the UK.
Government funding of £3.2 million will see a first-of-its-kind project developed in Cambridgeshire and have the village of Swaffham Prior transition from oil to low-carbon heating, with 300 properties linked to a network using hybrid ground and air source heat pumps.
The proposed heat network will use a hybrid solution, combining a ground source heat pump and air source heat pump to provide zero carbon heating to homes within the village.
Sheryl French, programme director, Climate Change and Energy Investment said: "This is a fantastic project and a first of its kind that we know of in the country. Retrofitting a whole village is a challenge but the Swaffham Prior Community Land Trust has been a great partner driving the project forward. 
"Securing the funding is a huge step in creating accessible renewable heat for oil-dependent homes in Cambridgeshire. Cambridgeshire County Council is committed to tackling climate change and I'm looking forward to seeing the continued success of this project."  
Lord Callanan, minister for climate change and corporate responsibility, said: "As a result of £3.2 million government funding, hundreds of residents in Swaffham Prior will reap the benefits of having heating and hot water that doesn't cost the earth, while helping to inspire communities across the UK to come together to tackle climate change and build back greener."
Cory – London Borough of Bexley 
A £12.1 million package of government loans and grants is being made to the Cory project in the London Borough of Bexley. The £1.6 million commercialisation grant and £10.5 million construction loan has been awarded to waste management, recycling, and energy recovery company Cory to support heat networks that will supply low carbon heat to 21,000 homes.
Heat for the network will be drawn from Energy from Waste facilities run by Cory and is part of plans by Swedish power company Vattenfall to deliver low carbon heating to 75,000 homes across the Thames Estuary over the next decade.
Dougie Sutherland, chief executive officer at Cory, said: "We are delighted that BEIS is supporting the development of one of the UK's largest heat networks. 
"This is a very major step towards net zero, providing low-carbon heat for thousands of homes and businesses in Bexley and its surrounding Boroughs." 
Ken Hunnisett, project director at Triple Point HNIP, added: "The HNIP is entering its final year and what better way to do so than with the announcement of funding for a project of such tremendous scale and ambition.
"It will be a source of great pride for everyone involved to see the collaboration between Cory and Vattenfall fulfil its commitment to delivering affordable, reliable decarbonised heat to so many communities."
Manchester OPEN 
The Octagon Project Energy Network (OPEN) heat network will receive £14.7 million in grants and loans for a scheme that plans to distribute low carbon electricity, heat and cooling to a range of buildings including Manchester University NHS Foundation Trust, major University buildings, a mix of over 1000 social housing units, student accommodation blocks, and commercial organisations, covering 5km2.
Heating will be provided by combined heat and power generation, which will be combined with power from solar panels and air source heat pumps.
Early estimates suggest that connection to the OPEN will support average emissions reductions of 10% for the network, and replace 22% for at least one major off taker, based on present carbon emission levels.
Richard Everton, chairman of the Manchester Energy Partnership said: "I am delighted that the tenacity and single mindedness of the Manchester Energy Partnership Limited (MEPL) team has turned what was a personal 'pipe-dream' into a financially viable and practical reality for the city of Manchester. 
"The support received from both the local authority and central government is proof that multiple agencies can work together with the private sector to bring about infrastructure projects that will benefit communities, in pursuit of fuel efficiency and to reduce carbon emissions in our major cities. Manchester is taking a strategic lead in achieving 'Net Zero North West'."