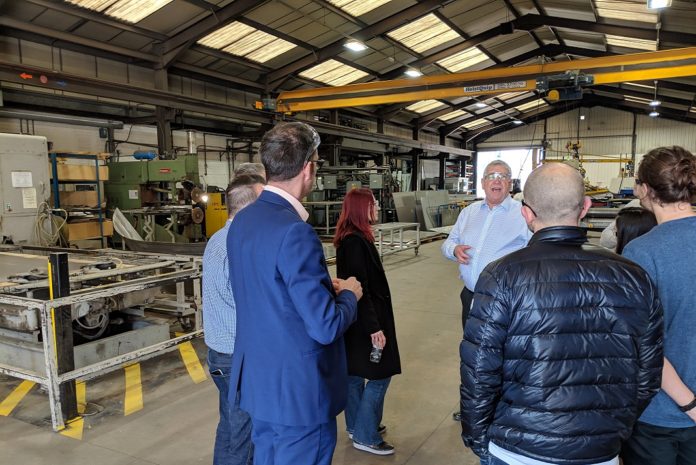 Stainless steel heat transfer product manufacturer Fabdec has held a technical training day for public health engineers from global infrastructure services firm AECOM to foster industry collaboration and share best practice.
The team visited Fabdec headquarters in Shropshire and took part in a comprehensive training workshop. This included a live demonstration of the innovative Hi-Flo system enabled by Fabdec's 3S technology, which is used to improve the performance and sustainability of its water heating products.
The team from AECOM also took part in a factory tour, which showcased the process of fabricating Fabdec's stainless steel product range across the water heating, dairy and brewery sectors.
Chris Powell, managing director at Fabdec said: "This visit is an important step in our effort to introduce peers to our diverse range of products, as well as demonstrating the manufacturing process and how they operate in various scenarios through training sessions.
"Alongside our innovative VR training programme developed in partnership with the Chartered Institute of Plumbing and Heating Engineering, this visit allows us the opportunity to demonstrate the inner workings of our products.
"Increasing awareness of the capabilities and specification of our water heating range is invaluable. We are always looking for ways that we can increase the industry's knowledge base and provide our insights into how to maintain consistent best practice in maintenance and installation.
"We're looking forward to continuing to collaborate with our peers in the sector and helping to build the skills base of engineering and installation teams through our CPD programmes."
Steve Vaughan at AECOM added: "It was an excellent educational day which formed part of our company's structured training programme. This ensures our staff are kept up to date with current and emerging technologies as well as providing an insight into manufacturing processes directly linked to our industry. The training was well organised and timed to perfection. A true example of collaboration between manufacturers and specifiers which provided an unequalled learning experience."