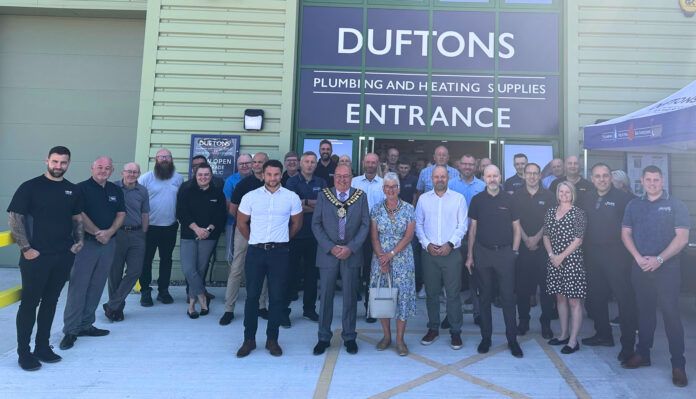 Duftons Plumbing & Heating Supplies is expanding its operation with the opening of its 11th branch in the UK.
The New Duftons branch is based in Barnsley, South Yorkshire and has created four new jobs in the local area. To celebrate the opening, Duftons invited The Mayor of Barnsley, Cllr James Michael Stowe to officially open the new branch.
Over 60 people from the plumbing, heating and bathroom sectors attended the launch, with 25 suppliers present from companies including EPH, Ideal Heating, Ideal Standard, Polypipe and Stelrad.
Duftons has expanded into renewables to support the transition from fossil fuels to low carbon and energy efficient technologies, it said.
Daniel Thackray, sales director at Duftons added: "For the past four years, we have applied a real focus on the renewable sector with the vision to make energy efficiency a staple part of any new build and or retrofit project. We understand the needs of the construction industry, providing impartial advice and a specification. As experts within this field, we're here to help find the best solution for every project. What's more, we have complete product ranges from ASHP to Solar PV, supplying you with everything that you need."