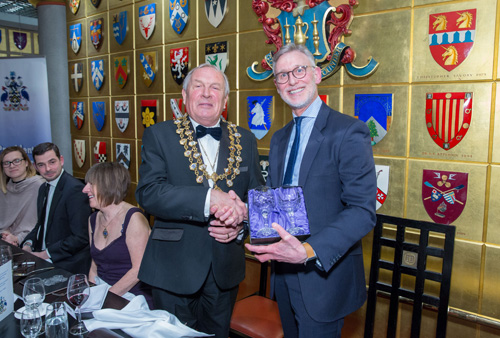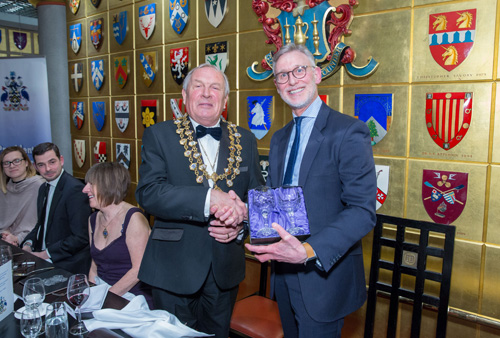 Collaboration, membership growth, enhanced support and services for members, along with heightened industry profile and engagement, proved to be the running themes of this year's Chartered Institute of Plumbing and Heating Engineering's (CIPHE) 'Dinner with the President'.
Held at the Founders Hall, London, 50 guests joined president, Geoff Westall, for a special dinner, celebrating his tenure in the Institute's most coveted position.
The dinner was attended by prominent figures from organisations serving the plumbing and heating industry, with Carl Arntzen, chairman of the Construction Products Association and CEO of Worcester, Bosch as guest speaker.
Geoff shared some of the highlights since he took over the reins as CIPHE president, including the extension of the CIPHE's license to award Chartered Engineer status to 2021, the growth of Industrial Associate (IA) membership by seven per cent and the continued involvement and support of IAs in innovative new programmes such as techtalk, smarttalk, and the development of revolutionary new virtual and augmented reality training.
Geoff deliberated on some of the vital aspects of the CIPHE's work protecting the public health, noting the Institute's involvement in the ongoing inquiry and working groups surrounding the Grenfell tragedy, the role of the CIPHE's Safe Water Guide in the current climate of rising Legionnaires cases and the campaign against non-compliant products entering the UK.
Geoff said: "We were all shocked and saddened to hear of the Grenfell Tower fire tragedy last year. The CIPHE, through both the construction sector and engineering industry, has provided a lot of support to the ongoing inquiry and working groups. There is no doubt that lessons will be learnt from this catastrophe which will benefit the public in the future, and the services of the plumbing and heating industry will be key in achieving this."
He also touched on the subject of education, CPD and licensing. "In order for the government's Industrial Strategy to be successful, greater engagement with industry is essential. There is no doubt that the aspirations to create a world-class education system would be enhanced if the Level 3 NVQ was adopted as a minimum standard for entry into the plumbing and heating industry. Of course, mandatory CPD linked to licensing would also help to raise standards and minimise the shortage of skilled people."