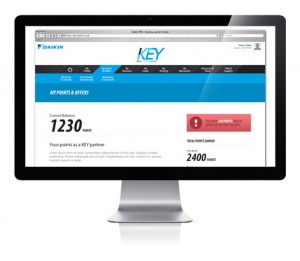 Renewable heating specialist, Daikin UK, has admitted that it will be ready for when the heat pump market really takes off, as two surveys show that growth will not be as rapid as expected.
Last year, experts forecasted a growth of between seven and ten per cent in the heat pump market, but data released by the Building Research Services Information Association (BSRIA) last month showed that it actually declined by 13%.
Nancy Jonsson, commercial director for domestic heating and renewables at Daikin UK, said: "It has been a tough year for us. The drastic reduction in oil prices last year has done nothing to help motivate homeowners to seize the initiative with renewables and make that leap across.
"However, there are strong signs of a response for 2015 onwards and 700 heat pump installations were registered under the domestic Renewable Heat Incentive (RHI) in April alone – that is more than double the rate for February.
"As a result there are now over 2,500 new domestic heat pump installations registered under the domestic RHI and that represents 28% of the 9,000 new installations.
"There are 12,700 air to water heat pump installations registered, which represents 58% of the total, so we know they are an attractive proposition in the market."
Looking ahead, BSRIA expects the air to water heat pump market to recover from about 19,000 units in 2014 to 25,000 in 2018, while Delta-ee, the research and consulting company, forecasts that the market will grow to 39,000 units in 2017.
"BSRIA's forecast is slightly more conservative than Delta-ee, but whichever forecast you have read it's clear that we must be ready and help build that demand. And we will be," Nancy added.
Nancy also believes that installers have a vital role to play in the success of the company.
"We know we have to be as close as possible to our installers to help nurture their business, to convince them that by investing in renewables and heat pumps will pay dividends both now and in the future.
"It is vital that installers are able to promote new confidence in the RHI and are not just pursuing a business as usual approach.
"A capacity gap is warning that a lack of skills will let us down unless we can convince installers to get trained and become Microgeneration Certification Scheme accredited.
"Installers are our frontline marketing team, they are in front of householders every day of the week, so we need them out promoting our products to the consumer and we need to give them the tools and confidence to do that as effectively as possible."
Nancy was speaking at the launch event of Daikin UK's new loyalty scheme for installers of Daikin Altherma air-to-water heat pumps and renewable heating products. The scheme, called Daikin KEY, is designed to unlock the potential of the renewables market for traditional heating installers, while rewarding Daikin customers with exclusive tools, free training and merchandise that are KEY to installer success.