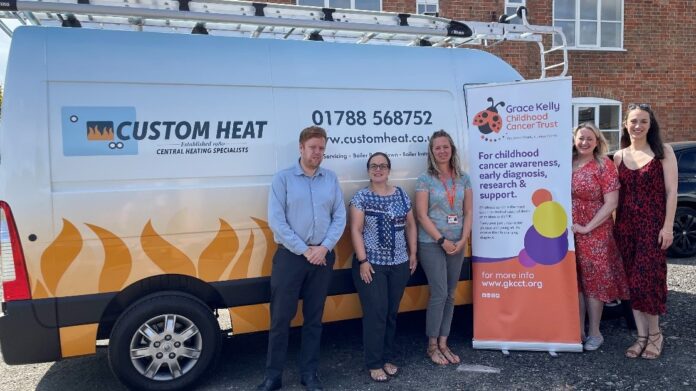 Custom Heat has partnered with the Grace Kelly Childhood Cancer Trust, making the non-profit its charity of the year.
The Midlands-based company has pledged to undertake free boiler services and repairs over the next 12-months for any Trust supported family living in its operational area.
In addition to the labour being provided at no cost when a family's boiler unexpectedly breaks down or requires an annual service, Custom Heat is making an initial £1,000 pot of funding available to cover any parts that may be required as well as donating £2,500.
Lincoln Smith, managing director of Custom Heat, said: "I knew that by partnering with the Grace Kelly Childhood Cancer Trust, Custom Heat could immediately help to take away some of the financial worries that families might be facing when they are prioritising looking after a sick child.
"If a boiler crisis happens, we can be there the same or next day to get it running again and the cost of parts will come out of the fund we have created. By offering annual services, we will also prevent a proportion of future break downs and ensure these families going through very emotional times have one less thing to worry about.
"Our support doesn't end there though; the Trust is Custom Heat's charity of the year and the whole team will be fundraising in as many ways as we can think of over the next 12-months. Furthermore, we are funding 10 grants for families in need of direct financial support and we hope to motivate our customers to add to the £2,500 via our dedicated donation page, enabling the charity to undertake even more of its vital work."