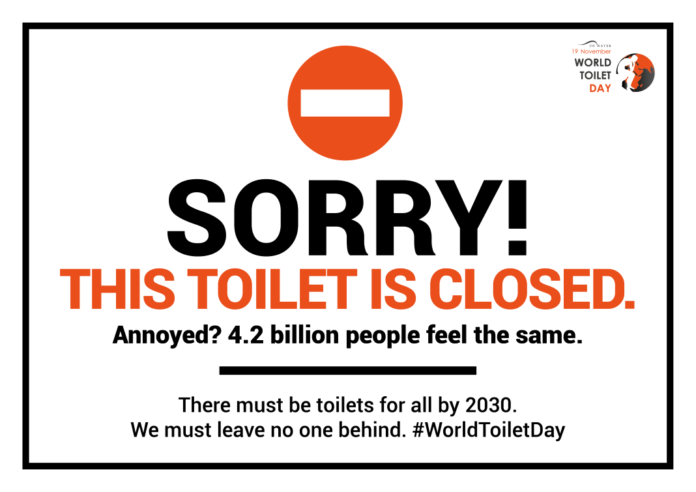 World Toilet Day takes place this week, on 19 November, designed to inspire action to tackle the global sanitation crisis and promise sanitation for all by 2030.
This year's theme is sustainable sanitation and climate change, announced supporter CIPHE.
The effects of climate change threaten safe sanitation systems around the world on a daily basis, it said, from toilets to septic tanks to treatment plants. Floodwater poses a particular problem, damaging toilets and spreading human waste into water supplies, food crops and people's homes. These incidents are becoming more frequent as climate change worsens, causing public health emergencies and damaging the environment.
Sustainable sanitation systems, combined with the facilities and knowledge to practise good hygiene, are also a strong defence against COVID-19 and future disease outbreaks.
Additionally, wastewater and sludge from toilets was said to contain valuable water, nutrients and energy, but globally, 80% of the wastewater generated by society flows back into the ecosystem without being treated or reused. Sustainable sanitation systems make productive use of waste, to safely boost agriculture and reduce and capture emissions for greener energy.
Closer to home, toilet troubles have been associated with COVID-19. Not only have we been advised to flip down the toilet seat before we flush the toilet, based on new research on toilet plume from China, but it's been increasingly hard to find publicly accessible toilets when away from home.
Across a backdrop of the steady de-funding and closure of public lavatories in the UK, coronavirus has seen many facilities remain off limits – even as lockdown lifted. This has had a disproportionate impact on women, the elderly, the disabled, those with medical conditions and parents of babies and young children, CIPHE said.
Kevin Wellman, CEO of the Chartered Institute of Plumbing and Heating Engineering (CIPHE), added: "It is mind blowing that the situation in many developing nations is currently so dire, with basic sanitation in some almost non-existent. The additional burdens of Covid-19 mean it's never been more important that people everywhere have access to adequate toilet and hand washing facilities. That's why it's so vital events such as World Toilet Day inspire governments and organisations to find solutions to the global sanitation crisis.
"We also need to look at issues closer to home. Public toilets are a necessity and not a luxury, providing dignity, independence and safety to all. Simply following official public health advice means frequent hand washing is a high priority for keeping everyone safe from coronavirus. Add to this a fragile economy and a drive to get the public spending money on the High Street again, and the argument for councils to provide much needed public lavatories rings clear."
To find out more on World Toilet Day visit https://www.worldtoiletday.info/