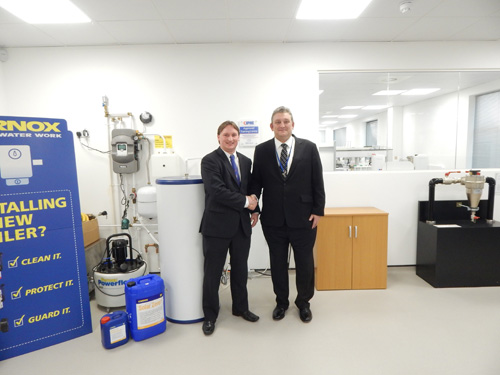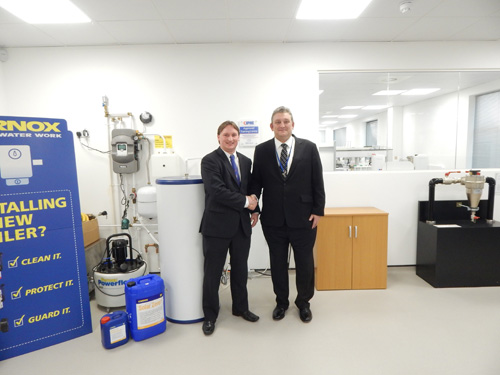 Fernox has been rewarded with Chartered Institute of Plumbing and Heating Engineering (CIPHE) approved training centre status by the CIPHE president, Paul Williams.
This follows a £1.5 million investment in its new training and technical and research facility, with three state-of-the-art product specific and demonstration laboratories.
The facilities will play an important role in the expansion of Fernox's portfolio of products. Integral to the investment is the creation of two new laboratories, which allow for specific research into the company's two main product areas: chemical water treatment and filter technology.
The chemical laboratory is approved for BuildCert testing, meaning the company's qualified professionals are certified to carry out high-standards of product trials, such as corrosion and compatibility testing. The laboratory also includes a formulation bench for creating and testing new formulations.
A second laboratory is dedicated to the development of domestic and commercial filter products. The facility allows the specialist Fernox team to perform pressure testing and analyse various methods of filtration, which will effectively collect sludge, scale and harmful debris found within central heating systems.
The head office is also home to a training room, which gives installers of all levels of experience the opportunity to learn about the benefits of chemical water treatment and filter technology, understand the regulatory requirements and best practice, as well as gaining valuable hands-on guidance and experience. The facility enables the Fernox team to demonstrate how to powerflush a system and dose through underfloor heating systems or radiators.
Following the launch of the new training centre, it has been recognised for its excellence and high standard of training by the CIPHE and awarded Approved Training Centre status.