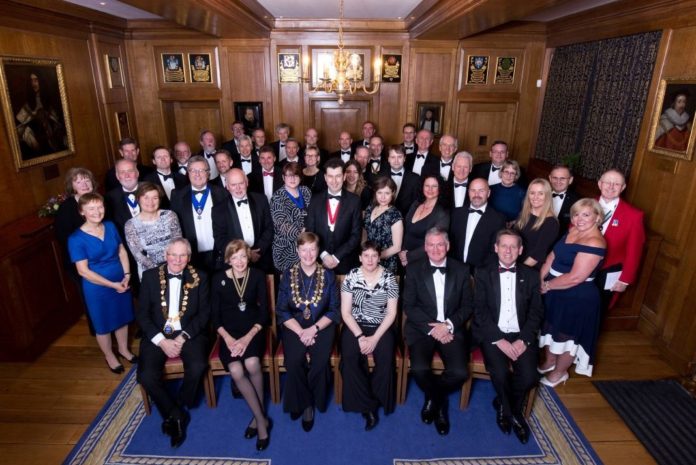 Education, public health and industry collaboration were the running themes of this year's Chartered Institute of Plumbing and Heating Engineering's (CIPHE) 'Dinner with the President'.
Held at The Honourable Society of Gray's Inn, 50 guests joined President Tracey Richardson for a special dinner last month, celebrating her year in the institute's most coveted position.
The dinner was attended by prominent figures from organisations serving the plumbing and heating industry, with Kirstie Donnelly MBE, group managing director of City & Guilds, as guest speaker.
Richardson opened her speech by thanking Donnelly for her thought provoking and kind words and then headed straight into her own passion for education, touching on the introduction of the new Plumbing & Domestic Heating Technician (Trailblazer) Apprenticeship.
She said: "I feel there are some interesting times ahead; especially to see what impact this new level 3 Apprenticeship will have on our industry… Naturally, with the introduction of any new qualification, we don't expect it to run without any issues, but the fact we have made this momentous change to the apprenticeship is a start, and one that we hope to build on; not only to encourage all plumbing and heating engineers to aspire to that of level 3, but also to encourage the professionalism that registration with the Engineering Council brings about."
Addressing the CIPHE's recent public health work in the areas of scalding and Legionnaires' disease, Richardson said the institute was "Leading the way in pulling statistical information together from a wide range of sources, to show what impact these occurrences are having on our hospitals in both England and Wales."
She also urged the whole industry to come together to help tackle public health issues saying: "It's by working together with other likeminded trade associations, to form collaborations, that we should be able to see how we can all help to make the industry a better and safer place."
Richardson, who will continue in her role as president until the CIPHE's AGM in June, finished her speech by touching on some of the activities she's really enjoyed as national president, such as meeting staff and students at CIPHE approved training centres. She then thanked all of those who have supported both herself and the institute in her presidential year.