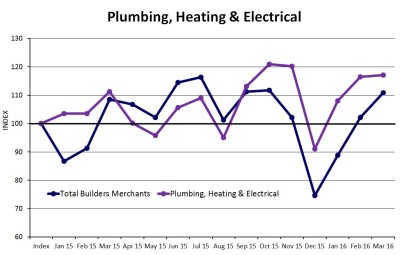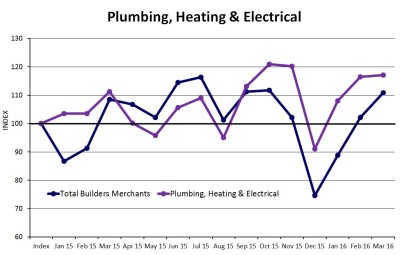 The latest sales figures from GfK's Builders Merchants Panel, released by the Builders Merchants Federation (BMF) in the Builders Merchants Building Index, show sales in Q1 2016 through the UK's general builders' merchants were up both on the last quarter and on the same quarter in 2015.
Sales in Q1 2016 were up by 5.4% on Q1 2015 with total ex VAT sales-out of £1.27billion compared to £1.20billiion.
There was strong growth throughout each of the first three months of the year, with both January and March showing two per cent growth year on year despite one less trading day in each month.
Product areas which delivered excellent growth were heavy building materials up 5.2%, timber and joinery products up four per cent and plumbing, heating and electrical up 7.3%.
The data shows year on year growth in all but one sales category, with renewables and water saving products down by 26.7%. This is, however, a very small element of total merchant sales with any volatility likely to produce a wild swing.
BMF's managing director, John Newcomb, said: "The year on year and quarter on quarter growth evident in builders merchants sales is clearly encouraging. It is also at odds with the recent Office for National Statistics (ONS) figures that reported construction output down by 1.9%, which have already been challenged by the Construction Products Association (CPA). Our data is in line with the CPA's Q1 survey. ONS figures have been revised in the past, so they may yet come back with a more positive picture that reflects what is actually happening in the market."