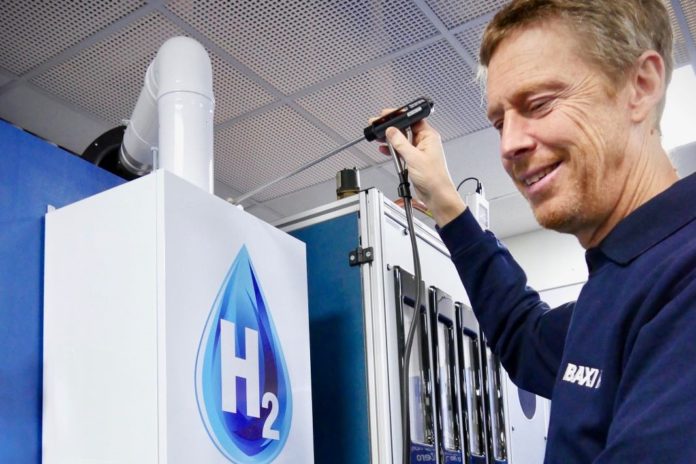 Baxi Heating is calling on the government to mandate hydrogen-ready boilers for all new gas boiler installations by 2025.
Together with Worcester Bosch, Baxi has produced a prototype hydrogen ready boiler and both would like to see such products rolled out in the coming years. Baxi has formed part of a new Hydrogen Taskforce.
Responding to a new report today from the Hydrogen Taskforce, Baxi also called for £1bn of investment to prepare the UK for hydrogen production, distribution and storage at scale, which would be necessary if the UK is to develop a hydrogen future and meet Net Zero.
Jeff House, head of external affairs for Baxi Heating, said: "Baxi and others in the heating industry are preparing to deliver clean heating and play our part in tackling climate change. We now call on the government to match our commitment with a clear message that hydrogen is one of the key solutions to deliver Net Zero by committing £1bn towards readying the UK for hydrogen in the upcoming spending review.
"From the consumer's perspective, hydrogen will offer everything they value from their current heating solution, namely instantaneous heat and hot water delivered by the existing gas network. Hydrogen offers a straightforward and practical solution for the consumer and we urge government to prioritise it in its future plans."
The Hydrogen Taskforce has launched a report called 'The Role of Hydrogen in delivering Net Zero', which sets out actions that must be taken by industry and government over the next five years to scale hydrogen applications, specifically its production, distribution and storage.
"Our membership of the Hydrogen Taskforce is a clear demonstration of our belief that hydrogen will play a key role in the future of heat. We are pioneering the use of hydrogen for heating, having already developed a 'hydrogen boiler' which can be initially installed to operate on natural gas then converted to hydrogen quickly and easily at a future date.
"The installation of 'hydrogen ready' boilers could begin long before 100% hydrogen is available within a locality by utilising the existing natural gas network. Once hydrogen is available, the hydrogen ready boilers can be simply and easily converted to hydrogen without the need for a new heating system," Jeff added.