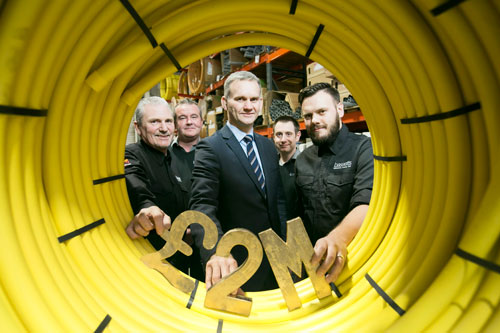 Northern Ireland's largest plumbing and heating supplier, Bassetts, has completed a £2 million investment programme and created 12 new jobs across its branch network.
This investment comes after impressive growth across the business and its tile sales in particular which have increased 45% year on year.
In 2017 so far, Bassetts has added over 37,000 sq ft to its operations, bringing its total to almost 400,000 sq ft, and has increased its total workforce to over 130 staff, reaffirming its position as the largest plumbing and heating supplier in Northern Ireland.
The company has expanded its Bangor showroom, opened a new Lisburn branch which is double the size of its previous one, and opened its new Clady branch which was acquired in late 2016.
Managing director, Alan Wright, said: "We have experienced remarkable growth over the past year, having secured new retail and trade customers across Northern Ireland. This has enabled us to invest significantly in our branch network, grow our team and continue to build on this success, extending our footprint across the region.
"I am thrilled with the work carried out on our branches so far and the benefits that these developments will bring to our customers, as well as our employees."
A strong focus on superior design, innovation and cutting-edge technology, alongside its commitment to adapting to the ever-changing needs of customers, has been key to Bassetts' achievements over the past 35 years. A prime example is the Bassetts Visualiser, NI's first interactive touchscreen software that allows customers to choose from hundreds of wall and floor tiles to easily create the perfect look in their dream bathroom.
Catering for every need, ranging from boilers and radiators through to bathrooms, showers, tiles and everything in between, Bassetts currently employs over 130 people with 15 branches in Bangor, Belfast, Clady, Coleraine, Downpatrick, Dungannon, Lisburn, Greencastle, L'Derry, Mallusk, Newry, Portadown and Omagh.