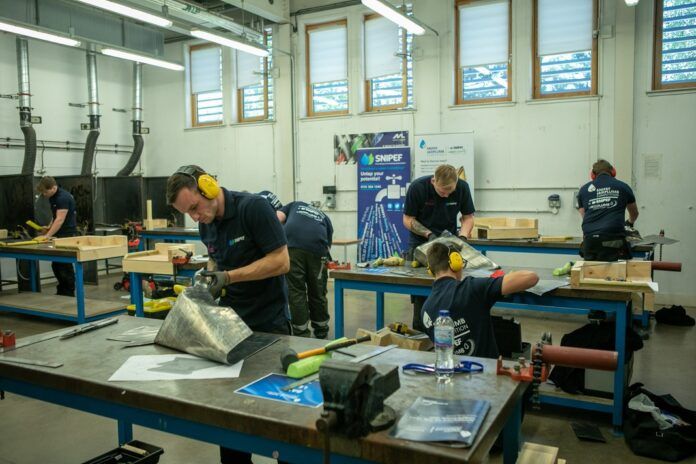 Apprentices are to compete in Copper, Lead and Renewable categories at Glasgow Clyde College's Cardonald Campus on Friday, 16 June 2023, for the Scottish Plumbing Apprentice of the Year title.
According to a statement, Scotland's most promising plumbing apprentices are to showcase their skills in a head-to-head competition, vying for the title of the Scottish Plumbing Apprentice of the Year. The event has been organised by the Scottish and Northern Ireland Plumbing Employers' Federation (SNIPEF).
Now in its 38th year, this practical-application competition challenges apprentices in two material categories: copper and lead, and a newly introduced renewable category, which comprises a mix of theory, design and practical elements in this increasingly important technology area.
Under 'close scrutiny from leading industry experts', competitors will undergo a series of rigorous tests to evaluate their individual skills, techniques and employability attributes, a statement said. Each apprentice will have the opportunity to demonstrate their depth of knowledge, technical skills, project management, accuracy and professionalism, all while having to meet a strict deadline.
The winner from each category will be awarded the title of Scottish Plumbing Apprentice of the Year (category). Winners of the copper category have the chance to progress to WorldSkillsUK National Finals if they accumulate enough points against other trade competitors worldwide.
Fiona Hodgson, chief executive of SNIPEF, said: "The competition provides an invaluable platform for our future industry leaders to demonstrate their capabilities and potential. Seeing such a wealth of talent and determination as these apprentices compete for the prestigious title of Scottish Plumbing Apprentice of the Year is truly inspiring.
"This competition not only highlights the technical expertise of these professionals but also underscores the vitality of our industry in cultivating a skilled workforce. Our goal at SNIPEF is to support these talents continuously, and it's always a delight to see them rising to the occasion with such remarkable skill and professionalism.
"The competition also arrives at an opportune time with SNIPEF having just been awarded Scottish government funding for 400 new plumbing and heating apprenticeships, helping to ensure that our profession can deliver Scotland's ambition to transition to a low-carbon society."