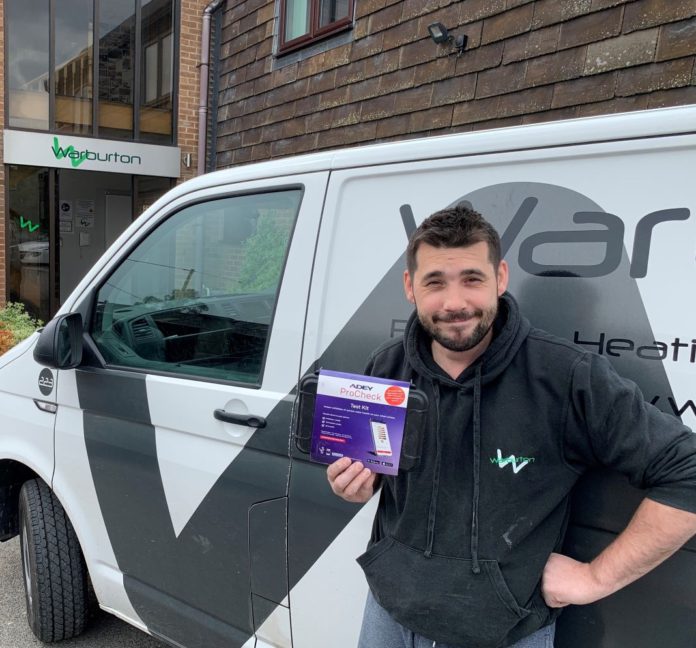 ADEY ProCheck, a universal water testing kit providing 'lab-style' results instantly to a smart phone, has reached the milestone of its 20,000th test within six months of its launch.
Sean Adams of Warburton Building Services, pictured, was responsible for recording the 20,000th test result.
Addressing system water quality is proven to extend the life of heating systems and effectively guard against sludge build-up from corrosion that leads to cold spots on radiators, reduced system effectiveness and diminished energy efficiency, among other concerns. Since the launch, heating professionals have been taking advantage of ADEY ProCheck's innovative technology to increase business building opportunities, record regulation compliance and best practice results and help homeowners protect essential heating system efficiency in the home, a statement said.
Sean said: "Using ADEY ProCheck has certainly made a difference to the way we work. We deal with new build developers so can have a number of properties being worked on at any one time. We need to be able to show the heating system has been dosed correctly and to the manufacturers' guidelines from the outset and using ADEY ProCheck means the team can do the test and the results can be filed instantly. It also helps us to demonstrate our compliance with BS7593:2019 which also secures additional business as our new build customers appreciate the fact that we can offer this service. It is a win / win all around and we are delighted to have been recognised in helping to reach the 20,000th test milestone."