Winners of ADEY Professional Heating Solutions' MC+ RAPIDE competition took to the track to experience the thrill of driving an Aston Martin at more than 100mph.
The four lucky installers all purchased bottles of ADEY's impressive new MC+ RAPIDE aerosol chemicals and were then picked at random to enjoy a day of track racing at Millbrook Proving Ground, Bedford.
Accompanied by specialist instructors, each winner drove four cars including a DB9, Rapide S, Vantage Sport and Vanquish Convertible. A professional driver also took them out in the Vanquish to show what the car is capable of.
"It was a fantastic day which everyone thoroughly enjoyed," said ADEY's sales director, Paul Strudley, who also attended. "Our MC+ RAPIDE range is all about speed, quality and performance, attributes which are also synonymous with Aston Martin so it was fitting to combine the two."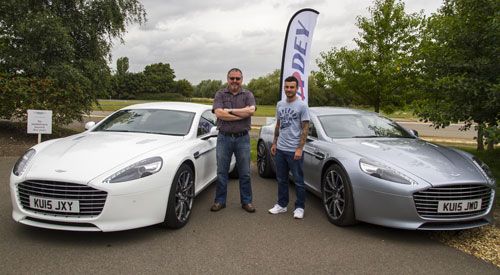 The lucky four were Gordon Hampton, from T W Steam & Heating Services, Alan Tittershill, from Alan Tittershill Gas Services, Simon Richardson, from Purr-fect Plumbing and Heating, and Joe Lawford, from Zap Services.