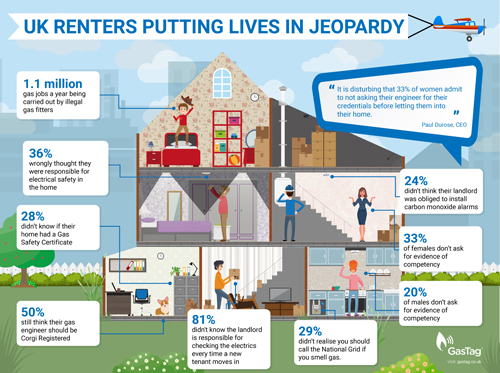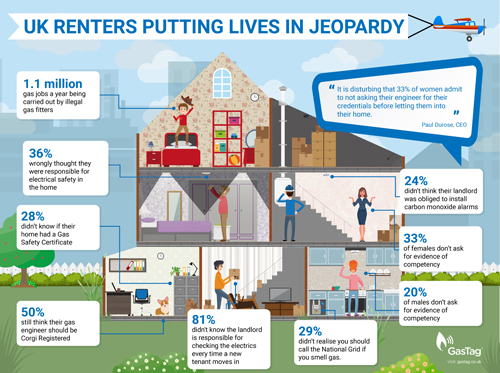 'Accidental landlords' could be putting the lives of their tenants at risk because they are not aware of their legal obligations.
By law, landlords are obliged to ensure gas appliances are checked annually by a Gas Safe registered engineer and must provide their tenants with a Gas Safety Certificate within 28 days of the annual check taking place.
Worryingly, one in six homes has a dangerous gas appliance and gas fires are the biggest risk with a third checked by the safety authority deemed unsafe.
Landlords also need to install a working smoke alarm and, since 1 October 2015, regulations require CO alarms in rooms with a solid fuel appliance. Over 4,000 people are hospitalised each year from carbon monoxide poisoning.
The landlord or owner must also ensure that electrical installations and wiring are maintained in a safe condition throughout the tenancy and electrical appliances must be checked on change of tenancy or at least every five years. If you live in a privately rented home, statistics show that you are at a higher risk of electric shock and there are 2,469 electrical fire incidents reported each year in the UK.
A survey by Gas Tag discovered that many tenants are not even aware of the legal obligations of their landlords.
In its survey of people renting across the UK, Gas Tag found that:
28% either didn't have or did not know if their rented home had a Gas Safety Certificate – the legal requirement;
Almost a quarter (24%) did not think their landlord was obliged to install a carbon monoxide (CO) alarm if there was a solid fuel burning source like wood or coal;
81% did not know that a landlord is responsible for checking all electrical appliances every time a new tenant moves into a property;
50% still think their gas engineer should be Corgi registered – it changed to Gas Safe Register almost 10 years ago;
36% wrongly thought they were – rather than the landlord was – responsible for electrical safety in the rented home;
Almost a third (29%) did not realise you should call the National Grid helpline if they smell gas in or around the home.