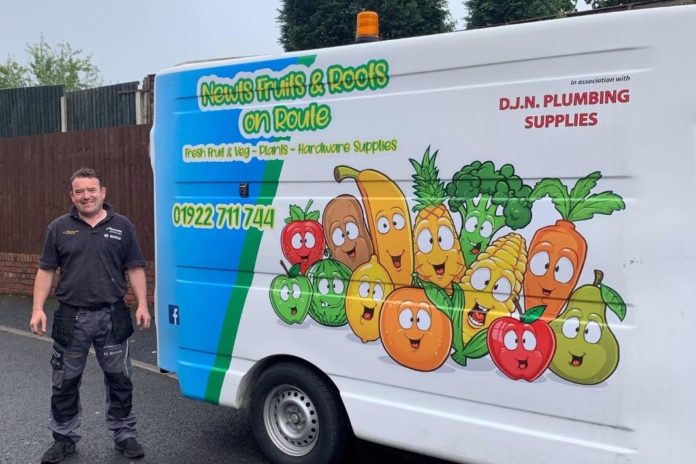 A plumbing and heating entrepreneur from Willenhall in the West Midlands has "swapped showers for cauliflowers and bath spouts for Brussels sprouts" as he diversified his business into delivering fresh produce and groceries to stay afloat during the current COVID-19 pandemic.
Simon Newton, who owns ACS Plumbing & Heating and DJN Plumbing Supplies, has now won the contract to supply a local children's nursery and started a special trailer service. He has taken on three extra staff and has plans to expand his plumbing supplies shop to include food refrigeration units, revealed one of his usual key suppliers, Mira.
With March's lockdown preventing him and his team from being able to install heating and bathrooms, the Mira installer took the bold decision to start selling a range of fruit, vegetables and groceries, recognising the need for this service, particularly for the elderly and vulnerable in his community who were shielding during the grip of the pandemic.
Now able to resume his installation business, he will continue the food delivery service, which includes daily Facebook live videos where Simon outlines the fresh produce available for the day.
He said: "My attitude was I couldn't just sit still throughout COVID – I had to support the staff and the customers that I look after – even if that meant 4am starts to get to the wholesale market. It's incredible how popular it's proved to be – as well as providing a new revenue stream it's also become a pipeline of new customers for the plumbing business."
Paul McGuire, installer communications at Mira Showers, said: "It's fantastic to see the ingenuity in our industry, and more so when it's someone you know personally – I used to work for Simon as a plumbing and heating engineer. Simon has shown real entrepreneurial spirit to diversify his business as he has, to maintain his revenue and to keep his staff in employment. In addition to that, Simon has provided a real lifeline to people in his local community and should be commended."