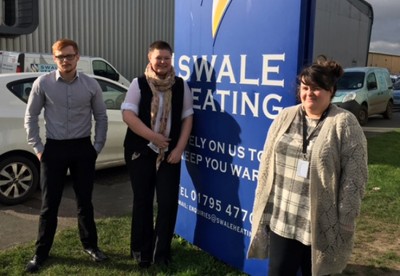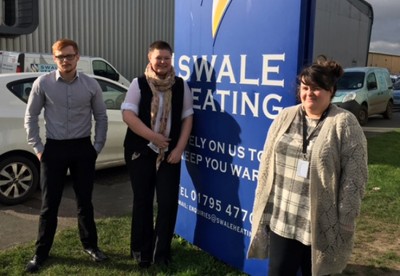 Swale Heating has been presented with an award for its dedication to supporting the local community.
The company was honoured at AmicusHorizon's first-ever annual Giving Back awards in the 'Supporting Trainees and Apprenticeships' category. The awards were held to recognise the support given by contractors and suppliers in helping the housing association's residents into training, apprenticeships and sustainable jobs.
Swale Heating has given AmicusHorizon's Giving Back initiative its full support since the scheme was launched in April 2012, ploughing more than £341,000 into a wide range of projects to help the community.
These have included recruiting plumbing and business admin apprentices; hosting and running short-term plumbing appreciation courses; offering work placements to residents in conjunction with Jobcentre Plus, Sustainable Sheppey and AmicusHorizon; and providing free basic plumbing courses for AmicusHorizon residents.
Swale Heating's latest scheme, developed by the company's contact centre, is already helping unemployed Swale residents get back into work.
Contact centre, operations manager, Jamie Monk, said: "We're working alongside Jobcentre Plus and AmicusHorizon to specifically target young people who have been struggling to get a job because of lack of experience.
"We've been targeting 18- to 21-year-olds and offering them training and certifications in customer service, so that we can give them six months in a stable job to put on their CVs. They can then either progress internally at Swale Heating or move on to find employment elsewhere," added Jamie.
"We've already brought in six people who are now starting e-Learning courses about the fundamentals of customer service, which is an essential skill in today's world."
One new recruit who is benefiting from Swale Heating's latest scheme is 18-year-old Charlotte Smith, who said: "To have a job at the same time as being able to do the scheme meant that I could earn a decent salary and learn at the same time. I'm in a safe environment where I feel comfortable asking questions, as this is all very new to me.
"There is so much to understand, not just about the job we do but about customer service, but Swale Heating gives me the time to learn and lots of training. I thoroughly enjoy it. There is so much I never knew about and it's really exciting!"