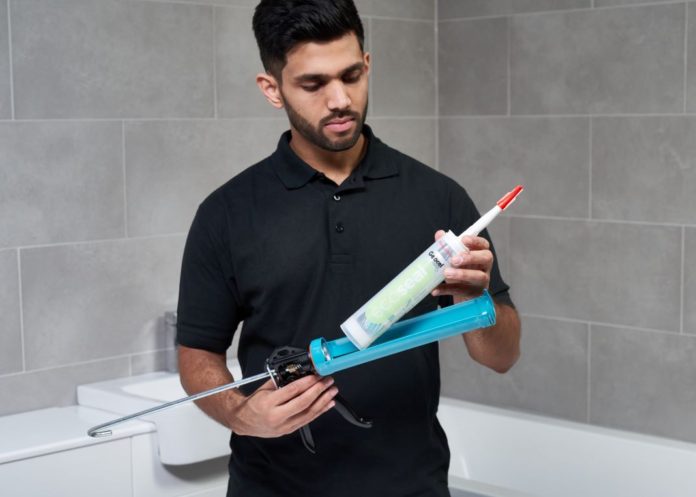 Andy Cummins, senior product manager at Geocel explains everything plumbers need to know about when it comes to Geocel's most sustainable product, ecoSEAL.
WHAT IS THE BASIC PREMISE OF ECOSEAL AND WHEN DID GEOCEL FIRST LAUNCH IT?
The ecoSEAL system is a much greener way for those in the trade to use their favourite products. The sealants and adhesives in the range are packaged in foils, which can then be used in conjunction with a unique plastic sleeve. This sleeve can be reused up to 75 times and is completely recyclable. Crucially, it is also compatible with any standard gun, making it easier for installers to embrace a more sustainable way of working day to day.
We first launched the ecoSEAL system back in 2011 but since then we have worked to refine the design and have also made a number of our core products, and trade favourites, available in foils. Now, Geocel's Painters Mate and THE WORKS PRO, as well as Dowsil 785+, 796 and 799 are all available in foils.
WHY SHOULD PLUMBERS LOOK TO ADOPT MORE SUSTAINABLE PRODUCTS?
It is safe to say that the world is changing as a result of environmental pressures and the plumbing sector must change as well. Currently, many traditional sealant and adhesive cartridges are made from plastic that theoretically could be recycled; but product residues within the packaging makes this impossible – meaning they have to be disposed of after every use. In practice, this approach is terrible and contributes significantly to the UK's single-use plastic problem. In fact, each year the UK sends almost 100 million plastic cartridges to landfill sites alone.
The good news is that we can make a difference. There is also a financial incentive to this shift as well. Between increasing landfill taxes and the growing cost of waste disposal transportation, construction professionals, including plumbers are feeling the pinch associated with single-use plastic solutions. Thanks to its re-usable nature, the ecoSEAL system mitigates these concerns. What's more, when the solution is eventually empty, the compacted foils are eight times smaller than traditional cartridges, meaning less waste is sent to landfill.
WILL THE ECOSEAL SYSTEM CHANGE HOW PLUMBERS WORK?
Arguably the best thing about the ecoSEAL system is that in terms of product performance and application – it's all exactly the same. The only difference is that plumbers can now choose a more environmentally friendly product and process, without having to sacrifice anything when it comes to quality of work.
CAN THE ECOSEAL SYSTEM REALLY MAKE A DIFFERENCE?
We really can't overstate how poorly the construction sector currently ranks in terms of environmental performance. Consuming around 23% of all plastic produced in the UK, this amounts to an estimated 50,000 tonnes of plastic packaging waste every year. As a result, it's no surprise to learn that 95% of respondents to a recent Considerate Constructors Scheme survey felt the industry needed to reduce its consumption of plastics and packaging. At the same time, the same survey found that 81% of respondents believed the industry wasn't doing enough to reduce its levels of plastic consumption.
However – solutions such as the ecoSEAL system are helping the sector to find new ways of working in a more sustainable way. At Geocel, we really believe that once plumbers have tried the solution they won't look back. It's just a practical and smart choice – continue using all your favourite trade brands, but create less waste. If you are in the trade, and looking to make 2021 your greenest year yet, ecoSEAL is a great place to start.
For more information on ecoSEAL, please visit www.geocel.co.uk/ecoseal.