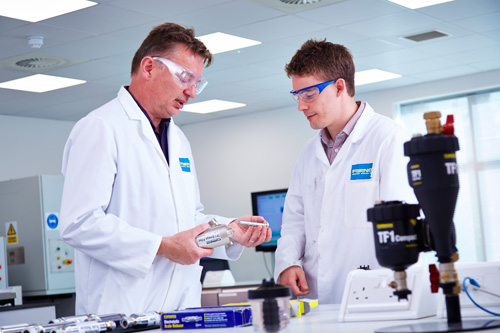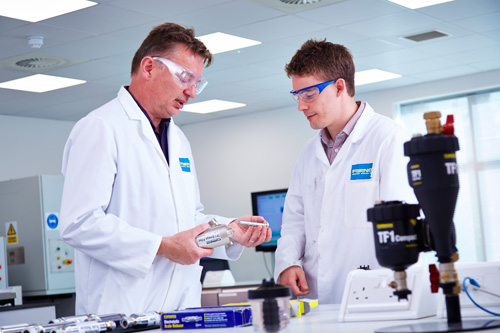 As a result of maturing technology and a more informed industry consensus, filtration technology is now viewed as essential to ensure boilers remain energy efficient and do not need to be prematurely replaced. However, this does not mean the industry should stand still.
Fernox is continually seeking ways to improve and enhance its filter offering – with a rigorous development and testing process to ensure it continues to deliver filters that offer superior performance.
Identifying a need
In order to develop a product that can add value, it is important to listen to our customers and understand their current needs. This process takes place through a variety of channels; firstly, speaking with our expert sales team across the UK, who is at the forefront of market demand.
Secondly, engaging with our customer base either via online forums or by inviting customers to visit our training and technical facilities here at Fernox.
Finally, we have forged strong relationships with boiler manufacturers to best accommodate their specific requirements.
Today there is industry demand for filters that are quick and simple both to install and maintain. Installers are in search of products that are easy to fit, whatever the heating system, and are quick to service – without compromising on quality.
Developing new filter technology in line with these demands will ensure best practise installation and servicing, resulting in optimising energy efficiency while protecting the boiler from breakdown.
Product development
Leading manufacturers are constantly developing new technologies and this process can take years to ensure any product design is as innovative and robust as possible.
A key advancement in the industry has been the development of filters that incorporate the capability to capture non-magnetic debris as well as magnetic sludge.
Hydrocyclonic action or hydronic particle separation (HPS) technology, alongside a powerful Neodymium magnet, delivers superior levels of debris capture, ensuring clean water leaves the filter – resulting in an exemplary level of boiler protection and optimised system efficiency.
Moreover, filters that can be installed either horizontally or vertically are a crucial innovation as they offer greater flexibility, ease and speed of installation when on-site.
For example, the Fernox TF1 Omega Filter has been optimally designed to fit into horizontal or vertical pipework orientation in both flow directions. Additionally, it has been designed without the need to remove a lid or dismantle the unit when cleaning the filter – saving valuable time when carrying out maintenance checks and servicing of the system.
Testing
As much as manufacturers are eager to be first to the market, the most forward thinking of them will conduct extensive and rigorous testing that aims to replicate any circumstance or variable that might occur 'in the field', while also ensuring the product has met all necessary health and safety operational requirements. It is crucial for manufacturers to have their testing processes verified by independent bodies, such as BSRIA, in order to prove the integrity of their products.
Any filter which is about to go to market must undergo strict testing processes. Filters should be pressure tested far beyond pressures and temperatures that would ever be present in a central heating system.
Leading manufacturers also meticulously test their products on the production line to ensure the highest level of quality and performance. For example, Fernox has developed an automated filter test rig which is capable of pressure cycling between 0-10 bar, as well as temperature cycling between -5⁰C and 90⁰C. During filter development the TF1 Omega filter was tested using this unique rig, and experienced over 350,000 pressure cycles, resulting in zero leaks or failures.
In order to remain at the forefront of the industry, manufacturers must respond to today's ever-changing market. Developing products with the installer in mind will ensure that new filters add value to customers, optimising energy efficiency while extending the lifespan of domestic heating systems.
New, simple to use filters are helping to reduce valuable time spent on-site, encourage best practice when servicing a system as well as prolonging the lifespan of vital heating system components.
For further information on filters, visit: www.fernox.com