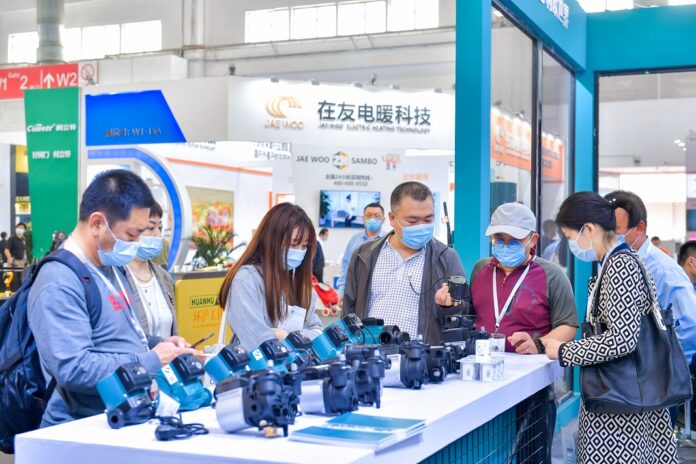 ISH China and CIHE, an international trade fair for Heating, Ventilation, Air-Conditioning (HVAC), Sanitation and Home Comfort Systems, is set to take place between 11 and 13 May at the China International Exhibition Center (Shunyi Hall) in Beijing. A further ISH event in China, ISH Shanghai and CIHE, is due to be held in Autumn of 2023 at the Shanghai New International Expo Centre.
Organised by Messe Frankfurt (Shanghai) and CIEC GL events (Beijing) International Exhibition, the show is set to present fairgoers with HVAC, plumbing, smart heating and home comfort technologies and products in the Chinese and wider Asian markets. The upcoming edition is set to continue to hone in on the Energy, Water and Life themes, which are in line with China's national development strategies. In total, the fair is expected to welcome over 1,300 exhibitors across 106,800sqm of exhibition space, according to representatives of the event.
Brands to participate in ISH China and CIHE 2023 include A.O Smith, ARCIO, BDR, Beiming Tianshi, DAB, Danfoss, Devotion, Dooch, GREE, Grundofs, Haier, Hailin, Kiturami, Koate, Leo, Micoe, Midea, New Energy, NORTIZ, OUTES, PHILIPS, Phnix, Ploumeter, Rinnai, Shengneng, Shiteng, Siemens, Tongfang, Unbeatable, Vanward, Wilo and others.
For over two decades, the fair's thematic zones have become the key component to its success, a statement has said. The 2023 edition is again set to highlight the returning German Pavilion, Overseas Area, Water Pump Zone, Floor Heating and Cooling System Area and Clean Energy District Heating Area. This year's fair is also due to feature the new Minibox Service Area located in the Overseas Area. It is a business matching platform at ISH China and CIHE, which aims to bridge domestic suppliers with overseas buyers who cannot physically attend the fair. Running throughout the full duration of the fair, the Minibox Service Area serves as a marketing tool for local suppliers to promote their latest innovations and technologies abroad.