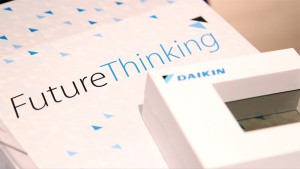 Daikin UK is again inviting building services engineers and engineering consultants to attend the latest series of its Continuing Professional Development- (CPD) accredited Future Thinking seminars in June and July 2015.
The series of two-hour talks will explore topics of Low Carbon Building, BREEAM and F-Gas Regulations, focusing on the implications of the latest assessment schemes and legislative changes that have come into effect over the last six months and include CPD-accredited sessions at every event.
The new F-Gas regulations (EU 517/2014) introduced in January 2015 are designed to phase down the use of fluorinated gases. The seminar will highlight the main challenges that these legislative changes present to engineers and the alternative refrigerant solutions available in 2015 and beyond.
The Future Thinking events are being held at top locations across the UK and the latest series features influential keynote speakers including: Ray Gluckman, former President of the Institute of Refrigeration; Gavin Summerson, senior consultant at BRE Global; and Graham Wright, president of HEVAC.
Daikin UK is encouraging early registration at the events to avoid disappointment. All sessions are scheduled to take place between 6.30pm and 9.30pm on the following days:
Edinburgh, G&V Royal Mile Hotel – June 18
Bristol, Radisson Blu Hotel – June 24
London, Haymarket Hotel – June 25
Birmingham, Hotel Du Vin – July 1
Manchester, Hilton Manchester – July 2
Nottingham, Mercure Nottingham City Centre – July 9
Daikin UK's Future Thinking programme has been created to encourage those who work in building services to deepen their insight into the issues that will affect the industry in the coming years.
The fourth series of seminars is already being planned for October and November 2015, focusing on the use of Building Information Modelling in the building services industry. Series five, hosted in February and March, will focus on renewable solutions in building design.