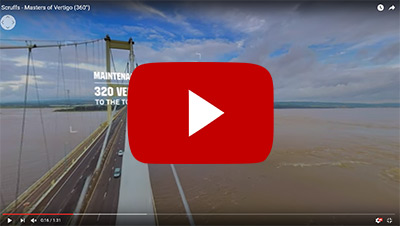 This post is sponsored by The 7th Chamber.
As a part of the 'Masters at Work. Masters of Workwear' campaign, Scruffs has teamed up veteran engineers of the Severn Bridge between England and Wales in the short film 'Masters of Vertigo'.
As an industry first, the 360° video captures first hand the team's ascent of over 400 feet, battling against the Great British weather to carry out vital maintenance work. This includes helicopter footage demonstrating the vast scale of the task at hand.
Scruffs is a workwear brand that champions tradespeople and appreciates the expertise, dedication and hard work that often goes unseen. The maintenance team featured in the video have over 500 climbs between them and a combined experience of 26 years. The one mile long bridge reaches a height of 445 feet at its peak, which takes 320 vertical steps to reach.
Featuring in the video is the Scruffs Expedition Thermo Softshell Jacket, protecting the engineers from the elements. The jacket uses a body-mapped design to balance insulation and freedom of movement, with its hard wearing nylon ripstop front and back panels that are padded with 3M Thinsulate®, it allows the team to work efficiently when there's a wind-chill of minus six and gale force eight. You can see Scruffs' full Autumn/Winter range, here: goo.gl/be5u7i
For more information about 'Masters at Work. Masters of Workwear' and the chance to a free pair of Scruffs 'virtual reality' glasses, visit: http://themastersatwork.com/