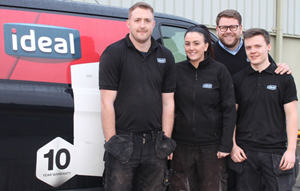 Ideal Boilers, has launched a pilot trainee diagnostic engineer programme with three students. Mark Cooper is ex-army, Jordan Breden has just left college and Zoe Field is from Ideal's technical support team.
Ideal's customer service director, Chris Jessop, explains the philosophy behind the new traineeship programme: "This scheme is not just about our trainees gaining the qualifications necessary to be diagnostic engineers, but has been designed to provide real work experience. This structured course is an investment in them, providing extra skills that will help build their careers.
"The programme will take between two and two and a half years, with 13 eight week assessment modules which link into the requirements of the gas certification including Health & Safety, manual handling, pipework and required electrics. Our trainees have covered a lot of the basic theory already, which will be reinforced by practical experience gained at Ideal. They will be able to ease into the industry with outstanding support, starting off by going out with the service engineers and progressing to callouts.
"Each trainee will work with four engineers, who will spend time on the road with them, instructing them and encouraging them to learn while on the job."
Meet the trainees
Mark Cooper, 31 from Bexhill in Sussex, was still in the Royal Engineers the week before he joined Ideal's traineeship programme.
Mark heard about the programme through a website set up by the armed forces specifically for service leavers and described it as "the perfect opportunity, as I have the qualifications but not the experience and there just weren't the opportunities to gain the experience until now.
"Ideal has put a lot of effort into the programme and has given us confidence, both in the traineeship and in ourselves. I'd like to stay with Ideal for the long-haul as the company has given me a fantastic opportunity and put its faith in me, a show of loyalty is the least I could give back!"
Zoe Field, 25, was previously on Ideal's Technical Support team and, as part of the team's ongoing training, has attended a number of service calls. She said, "This summer, I shadowed one of our local engineers on a service call. I felt confident with the feedback he gave me and he agreed that it could be a new career path for me, as I had been working for the past two years on my portfolio for my gas qualification.
"It's different to my previous role advising engineers over the phone but I've had great support from Ideal and I'm enjoying learning new things."
Jordan Bredon, 18, is from Brighton and will be fully gas qualified in December when he leaves college. He will be completing his modules in Reading and Swindon while also working with the team in Hull. He said, "Being on-site in Hull and seeing the boilers in production has given me insight that will be helpful when I'm out on the road. I really want to thank Luke King and everyone at Ideal for giving me this opportunity." Jordan is enjoying his traineeship and, with family members also in construction, is looking forward to developing his career.
Chris Jessop added: "The scheme is one way Ideal is supporting the industry by investing in the future. We hope to provide trainees with real industry experience at the highest level, starting them on a career path to join those held in high regard within the industry, being manufacturers' diagnostic engineers.
"Their final qualifications will be a full portfolio of the certificates required for a diagnostic engineer, coupled with a wealth of experience working for a manufacturer. This intake is planned to be the first in an ongoing programme of traineeships."